Neko Case Talks About Her New Album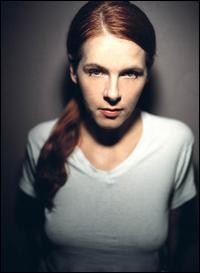 "I've given up on typical song structure," says
Neko Case
, reflecting on the twelve new songs on her ambitious, riveting new album 'Fox Confessor Brings The Flood" (due March 7 on Anti- Records). "I want to say what I have to say and then get out." But a close listen will reveal that Case hasn't so much given up on the typical verse-chorus-verse construct as transcended it, creating a majestic album that resonates more deeply with each listen.
"With this album," Neko Case reflects, "I wanted to try and figure out how fairy tales were born." But 'Fox Confessor' doesn't dissect the form; it advances it.
Case drew inspiration from disparate sources for 'Fox Confessor.' The title track, and some of the other characters brought to life on the album, are inspired by some of the Russian folk tales she has loved since childhood. "The stories are very musical," says Case, of the legends her Ukrainian relatives instilled in her. "They usually don't have a moral, and their approach to death isn't scary, it's darkly funny. I've always been drawn to that."
Another story that gets a new reading on 'Fox Confessor' has its origins not in Ukraine, but Washington state where Case grew up. Case's grandmother told a tale - true, supposedly - of a house in Washington whose inhabitants all went mad simultaneously, seeing visions, burning their clothes and furniture to keep warm. Case hypothesizes that lead poisoning may have been the culprit, but she gives a less literal interpretation on "Dirty Knife," a delicate yet jagged song that features foreboding bowed bass and cello accompaniment by
Calexico
's Joey Burns.
Still another song on 'Fox Confessor' has its origins in 1930s rural Alabama. "John Saw That Number" sets the familiar biblical story of John the Baptist to Case's original music, drawing on lyrics she found in the book 'Honey in the Rock: The Ruby Pickens Tartt Collection of Religious Folk Songs from Sumter County, Alabama' (pub. 1939). Case delivers one of her most stunning vocal performances to date here, kicked off by a rapturous a capella intro, which Case recorded in the stairwell of a nightclub in Toronto for maximum acoustic effect.
W.H. Auden once wrote that one trait of a great poet is "a constant, progressive process of maturation, so that should an author's individual works be placed side by side at any stage of his or her career, it would always be clear which work came first, and which came after." 'Fox Confessor' furthers this argument, and finds Case pushing her talents to new heights.
Born in Virginia, raised in Washington, and on her own by age 15, Neko Case spent her formative late teens/early twenties playing in punk bands and attending art school in Vancouver, BC. A chance encounter with a Bessie Griffin record at age 19 opened her to a world of country, gospel and blues music that she's still exploring to this day. Her debut album '
The Virginian
' was release in 1997, and more critics and fans have taken notice of her unique talents with each subsequent release. Her last studio album, 2002's '
Blacklisted
' made several critics' year-end lists. Case is also a founding and ongoing member of
The New Pornographers
. She toured extensively with them in 2005, and will perform in Seattle with the band on November 19 at the Pyramid Brewery at a benefit concert for "Snowrider Project." Case is planning a headlining tour of her own for 2006.
'Fox Confessor Brings The Flood" will be released March 7 on Anti- Records.
Related Links:
Neko Case biography, photos, discography, reviews & more...
The New Pornographers history, reviews, pics & more...