Neil Young's New Crazy Horse Album Features England's National Anthem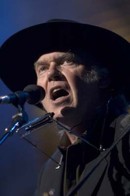 Neil Young's reunion album with his longtime backing band Crazy Horse will feature new versions of folk classic "This Land Is Your Land" and the English National Anthem "God Save The Queen".

The rocker's much-anticipated new album "Americana" will be released on June 5 and will also feature folk standards "Clementine", "Tom Dooley", "Get A Job" and "Oh Susannah".

But it's England's National Anthem that may surprise many fans.

A statement announcing the album's tracklisting reads: "'God Save The Queen'... became the de facto national anthem of sorts before the establishment of The Union as we know it until we came to adopt our very own 'The Star Spangled Banner', which has been recognized for use as early as 1889 and made our official national anthem in 1931.

"Each of these compositions is very much part of the fabric of our American heritage; the roots of what we think of as Americana in cultural terms, using songs as a way of passing along information and documenting our past.

"What ties these songs together is the fact that while they may represent an America that may no longer exist, the emotions and scenarios behind these songs still resonate with what's going on in the country today with equal, if not greater impact nearly 200 years later.

"The lyrics reflect the same concerns and are still remarkably meaningful to a society going through economic and cultural upheaval, especially during an election year. They are just as poignant and powerful today as the day they were written."