Neil Young Album: Chrome Dreams II Set for October 23rd Release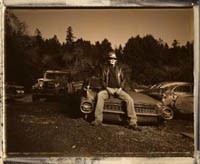 The legendary
Neil Young
is back with a new reord,
Chrome Dreams II
, out October 23rd.
You can preview FOUR FULL SONGS from the new record on Neil's offical Youtube site:
Dirty Old Man
|
The Believer
|
The Way
|
Spirit Road
Neil Young will begin a North American tour on October 18th in Boise, Idaho, two days after the release of his new extraordinary album Chrome Dreams II on Reprise Records. Concerts continue until December 13th in New York, including two nights at the historic Massey Hall in Toronto, Canada, the site of early legendary shows by the acclaimed singer-songwriter.
Chrome Dreams II is a stunning collection of eight new and two classic Young songs. Recorded last summer in Northern California, musicians include Ben Keith (pedal steel guitar, dobro and other instruments), Ralph Molina (drums) and Rick Rosas (bass), who will all be performing in concert with Young.
Pegi Young
is opening artist on the tour. She released her debut album last summer on Vapor/Warner Bros. Records, followed by a series of sold out shows in Northern California and New York.
On October 27th and 28th Young will host the 21st annual Bridge School Concerts in Mountain View, California, which also features appearances by
Metallica
,
John Mayer
,
Tom Waits
with the Kronos Quartet, the trio of
Eddie Vedder
,
Flea
and
Jack Irons
, and others. Concert schedule is as follows:
October 18: Boise, ID (Morrison Center)
October 20: Spokane, WA (Opera House)
October 22: Portland, OR (Keller Theater)
October 23: Seattle, WA (WaMu Center)
October 30: Los Angeles, CA (Nokia Live)
November 5: Denver, CO (Wells Fargo Theatre)
November 8: Minneapolis, MO (Northrop Auditorium)
November 10: Detroit, MI (Fox Theater)
November 12: Chicago, IL (Chicago Theater)
November 13: Chicago, IL (Chicago Theater)
November 15: Washington, DC (Constitution Hall)
November 18: St. Louis, MO (Fox Theater)
November 26: Toronto, ON (Massey Hall)
November 27: Toronto, ON (Massey Hall)
December 2: Boston, MA (Orpheum Theatre)
December 3: Boston, MA (Orpheum Theatre)
December 7: Wallingford, CT (Oakdale Theater)
December 9: Philadelphia, PA (Tower Theater)
December 12: New York, NY (United Palace)
December 13: New York, NY (United Palace)
December 14: New York, NY (United Palace)
December 15: New York, NY (United Palace)
December 16: New York, NY (United Palace)