Neil Patrick Harris Says He Still Flirts With Women, And He Likes It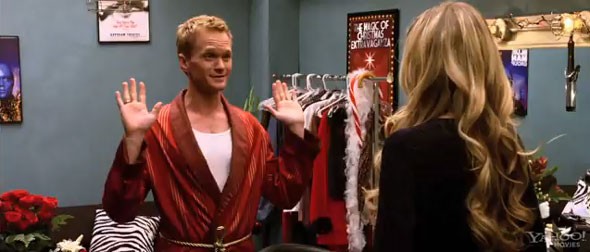 Neil Patrick Harris came out in 2006 and now has two children with his partner David Burtka. Everyone knows this about the public couple, but that doesn't stop women from flirting with him. Harris still welcomes the attention.
"Not to get political, but I think the time, the pendulum/paradigm has shifted a little bit," Harris said. "I think there's lots of girls that I talk to that know that I'm gay and still are flirty. I flirt right back."
Harris is currently promoting A Very Harold and Kumar 3D Christmas, in which he reprises his role as the coked out babehound version of NPH. That's a joke, but he's not above flirting back with girls in real life.
"I think flirting is great fun. It doesn't mean that anything's going to come of it but it's fun to be told that you're hot and that your tits look great."
The NPH of Harold and Kumar might go a little too far for Christmas. Backstage of a musical song and dance show, he reveals his "secret" to one of the dancers. The ladies might not think flirting is so cute anymore after that.
"After this movie, I think they might run from me. I tried to force myself inside one of them. It's wild between NPH and Barney Stinson."
A Very Harold and Kumar 3D Christmas opens Friday.