Neil Patrick Harris Returns To Nickelodeon As A Singing Dolphin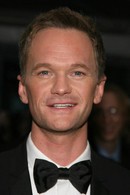 Actor Neil Patrick Harris is making a return to children's TV to voice a talented singing dolphin.

The How I Met Your Mother star will re-join the cast of the Nickelodeon network's award-winning animated show The Penguins of Madagascar as the "sinister" Dr. Blowhole in the upcoming special, Blowhole Strikes Back.

During the hour-long kids' program, the actor and father of twins will also show off his musical talents and perform four original numbers.

Nickelodeon President of Animation, Brown Johnson, says, "Our viewers loved Dr. Blowhole in the first special, so we were excited to bring the character back and work with the very talented Neil Patrick Harris again.

"In this second special, he has expanded his role with unforgettable vocal performances, including a stand-out power ballad."

Harris previously appeared on the show in 2010 for the episode Dr. Blowhole's Revenge, which garnered great reviews.

Blowhole Strikes Back will air in the on September 9.