Neil Patrick Harris' Gay Daddy Dilemma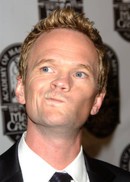 Actor Neil Patrick Harris and his partner David Burtka have taken on certain monikers so their tots won't be confused as they grow up with two fathers.
 
The How I Met Your Mother star's nine-month-old twins, daughter Harper and son Gideon, have recently begun crawling and are on the cusp of uttering their first words.

However, Harris jokes that he and Burtka have grown nervous their day-to-day life will be confusing if both toddlers call them dad, so they've taken on specific names to make for a less chaotic household.

During an appearance on The Tonight Show With Jay Leno on Monday, he said, "This is a sore subject. Because we are two gentleman with children. And so we didn't know what to call ourselves. Daddy One and Daddy Two sound kind of strange... So David's daddy and I'm poppa, just to differentiate."

Nonetheless, Harris isn't looking forward to hearing the kids speak their first words because he knows daddy is much easier for an infant to say: "One of the child's first syllables is da da... So I'm going around (trying to teach them) pa pa."