'Neighborhood Watch' Trailers Pulled From Florida Theaters After Trayvon Martin Shooting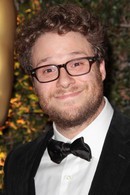 Film bosses have pulled early trailers for new Seth Rogen comedy Neighborhood Watch from Florida cinemas following the shooting of African-American teenager Trayvon Martin.

The 17-year-old student was gunned down in Sanford by a neighborhood watch volunteer, George Zimmerman, last month. Zimmerman has not been arrested, with his lawyer claiming the 28 year old was acting in self-defense when he shot unarmed Martin.

The teenager's death is continuing to cause outrage in the U.S., and executives at Twentieth Century Fox have made the decision to pull early promotional material for the upcoming movie, co-written by Rogen, in Florida theaters.

A statement from Fox to The Hollywood Reporter declares that while the film "bears absolutely no relation to the tragic events in Florida" the company is "very sensitive to the Trayvon Martin case."

The spokesperson adds, "The movie, which is not scheduled for release for several months, was made and these initial marketing materials were released before this incident ever came to light. The teaser materials were part of an early phase of our marketing and were never planned for long-term use. Above all else, our thoughts go out to the families touched by this terrible event."

The film is set to hit theatres in July.