Need Something To Watch? Check Out BBC America (They Have More Than Funny Accents)

Oh these cold winter months. In years past we could warm ourselves with the knowledge that our favorite shows would return in the new year and provide us with solid entertainment until May. Unfortunately all that changed this year.
With the Writers Guild of America still on the picket lines, faithful television watchers must look elsewhere for new entertainment. This means venturing into the uncharted realm of expanded digital cable. Nestled within this wasteland of depravity and cooking shows lies BBC America. Is it a beacon of light in the darkness? We'd like to think that it is. So grab your remotes, turn on closed captioning so you can understand what those wacky Brits are saying, and venture into our picks for what to watch on BBC America.
Torchwood
:
With the second season premiering on January 26, you only have a few weeks to catch up on what has been named the most popular BBC America show ever. The premise is this: a group known as Torchwood investigates alien incidents on Earth, solves the crime, and then "borrows" the technology for their own use. If you're looking for a comparison, think of it as
X-Files
if Mulder and Scully hooked up with each other, and then everyone else in their department. There is a lot of sex in this show, and gender does not play a role in who is sleeping with who. While there are some growing pains, namely some uneven acting from series lead John Barrowman, the sum is greater than its parts. Those aching for the early seasons of
Lost
might do well to give "Torchwood" a chance.
Coupling
: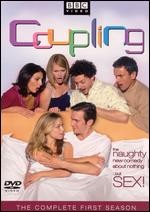 Remember a few years back when NBC unsuccessfully tried to create an American version of this UK hit? Didn't think so. The original "Coupling" was essentially the BBC version of
Friends
, a group of six sex crazed mates and the wacky hijinx that ensued. Having ended its run after series four, "Coupling" is now shown on BBC America in nightly reruns much in the same way that
Everybody Loves Raymond
is shown in the states. More risqué than it's American counterparts, you'll know you've seen it all when you witness a dinner party turn into a defense of pornography.
My Family
:
A personal favorite, this sitcom tells the story of a fairly middle of the road British family and, as is the case in most comedies, there is more than enough insanity to go around.
Robert Lindsay
and
Zoe Wanamaker
star as the heads of the household with their three children, each one a familiar stereotype: the genius son, the imbecile son, and a daughter with downright questionable morals. Each episode is textbook in its comedy, and it is better to just sit back and enjoy the 22-minute ride. This series in no way redefines television, but it offers enough laughs for those who miss the days when just one episode of a show could be fulfilling.
Doctor Who
:
Got a DVR? Then set it up to record every episode of "Doctor Who," repeats included. The current incarnation of this series (which has been around since the 60s) is far and away the most enjoyable hour you will spend in front of your television. Centering around the travels of a two-hearted alien known as The Doctor, think of this show as the sci-fi version of
Buffy the Vampire Slayer
(
Anthony Stewart Head
who portrayed Giles even appears in an episode). Each episode will truly make you wish you could pack up and head overseas. Entering it's fourth series in Britain BBC America watchers are a bit behind as the second series is currently being aired. To make matters more confusing, the Sci-Fi Channel had aired series three this past summer. You're best bet might be to netflix the earlier series and treat the BBC America airings as a special treat.
Catherine Tate Show
:
A sketch comedy show that bears no resemblance to
Saturday Night Live
or its imitators, "The Catherine Tate Show" relies solely on the comic styling of its namesake. The sketches are hit and miss and one particularly bad bit involves Tate as a 35-year-old cheerleader who simply won't allow herself to be booted from the team. Still, when one is forced to choose between this and reruns of "SNL," beggars can't really be choosers. On a positive note, Tate's portrayal of a clown suffering post-traumatic stress disorder garnered more than a chuckle.
The Graham Norton Show
:

Jay Leno
he isn't and the "Tonight Show" it isn't, but "The Graham Norton Show" is hilarious in its offensiveness. The format involves Norton and two celebrity guests from both America and Britain who remain with him the entire show. Past guests include
Cagney and Lacey
stars
Sharon Gless
and
Tyne Daly
which ended up with Gless getting in on the show's humor and Daly remaining bewildered at the experience. Unfortunately, the season finale is the first weekend in January so you might have to be content with re-airings. If you haven't seen it, it's new to you!
Story by
Dan Chruscinski
Starpulse contributing writer