'Need For Speed' - Fast, Sexy Cars And Aaron Paul Makes For A Totally Fun Ride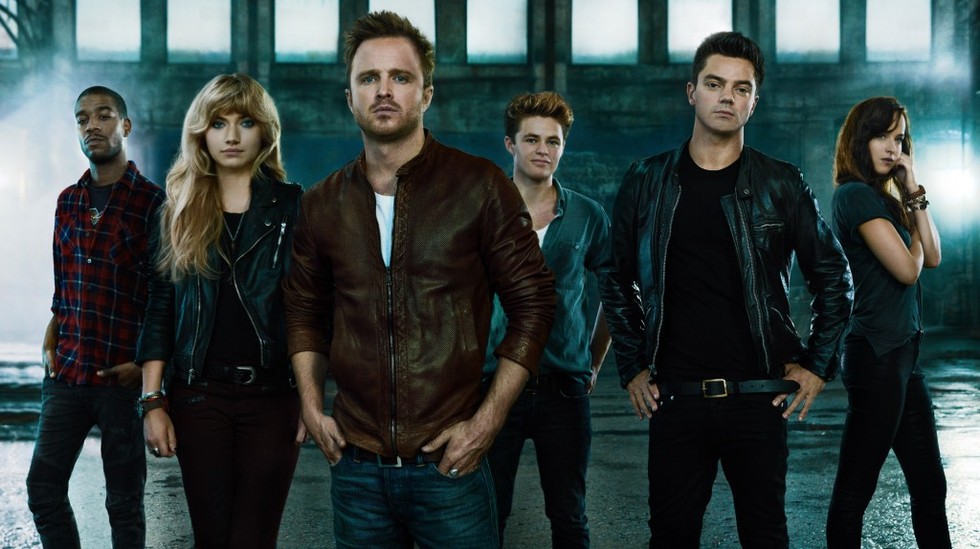 Right off the bat, I have to say that, I absolutely loved this film. If you're wondering why, well, first of all, it's about cars. Not just any old cars...I'm talking hot, sexy, super fast, racing cars.
Muscle cars and Europeon super cars.
From America, we have  Mustangs, Shelby GT500, 69 Ford Gran Torino, 68 Chevy Camaro. The European selection includes some of the most gorgeous cars ever made; Lamborghinis, Sesto Elemento, a GTA Spano, a Bugatti Veyron, a McLaren P1 and a Saleen 57.
Many of these rare cars, were featured in the video game that this film is based on. But 'Need For Speed', directed by Scott Waugh, is not just about a bunch of magnificent video game cars being raced around a track. There is a story and it's a really entertaining and exciting one.
Tobey Marshall (Aaron Paul from 'Breaking Bad') runs his family's auto shop and races the underground street circuit with his friends on the weekends. Even though, he's struggling financially, life is good for Tobey, but it doesn't take long for all that to change.
One day, Tobey's former nemesis, the wealthy, pompous, Dino Brewster (Dominic Cooper) stops by his garage and offers him a once in a lifetime opportunity: build the fastest Mustang in the world, for which would give Tobey the financial windfall he needs to save his business. Even though Tobey can't stand Dino, he agrees to do it to keep his struggling livelihood standing.
Following the completion of the Mustang and its subsequent sale, to a big time car broker, via his beautiful, but opinionated British colleague, Julia (Imogen Poots), Dino challenges Tobey to an impromptu race...An offer Tobey can't refuse, since nothing would give him greater pleasure than taking this jerk down a peg or two. 
Unfortunately, the race ends in disaster and Tobey winds up going to prison for a crime he didn't commit. When he gets out after serving two years, there's only one thing our guy wants...vengeance...And boy, does he get it.  
But not right away of course. What kind of film would that be? Tobey has to race across the country, while evading cops and some really nasty bad guys, to make it into the high stakes underground race, known as The De Leon, named after its founder played by Michael Keaton.
This is a winner take all event and only a few select drivers are invited to participate.  Tobey has 48 hours to travel from New York to San Francisco in order to qualify. 
Does he make it?  Well you're just going to have to see 'Need For Speed' which opens in theatres, Friday, March 14, 2014 to find out.I gave 'Need For Speed' 4 bagels out of 5' with the works because I found every second of it, completely entertaining.
Check out The Two Jews On Film video for more of my thoughts.  
Please SUBSCRIBE to our channel on Youtube and LIKE us on our Two Jews On Film Facebook page.
Let us know what you think about 'Need For Speed' in the comments below.