'Nebraska' Review: Bruce Dern Gives Performance Of His Life In This Exquisite Alexander Payne Film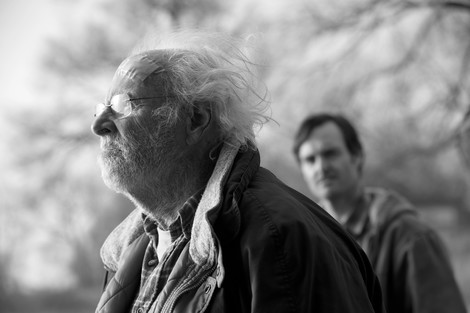 When it comes to movies everyone knows it's all about the visuals. Yes, dialogue is important, but it's the pictures that have the most impact. This is certainly the case when it comes to the black and white film 'Nebraska,' which is brilliantly directed by Alexander Payne.
Simply put, this film is absolutely exquisite - and equally exquisite is Bruce Dern's performance. This is the best performance of his career and come Oscar time his name will certainly be on the Best Actor list.

Bruce plays Woody a man nearing the end of his life, who may or may not have dementia. 
This is a man who doesn't say much and most of the time, his attention is somewhere far, far away.

Woody is a life-long alcoholic who lives with his wife, Kate (June Squibb) and his son David (Will Forte) in Montana. He gets a flyer in the mail, stating that he won a one million dollars sweepstakes. All he has to do is travel to the sweepstakes office in Nebraska to collect the prize.

Even though David and his brother Ross (Bob Odenkirk) try to convince Woody it's a scam, he refuses to believe them. He's going to Nebraska, even if he has to walk there; and wait to you see Woody's walk. To appease him, David agrees to drive Woody to Nebraska and what an amazing trip this turns out to be.
'Nebraska' - brilliantly written by first time screenwriter  Bob Nelson - is a road trip film that takes us into the heartland of America. It does this with incredible images, thanks to the genius of Phedon Papamichael, Payne's long time cinematographer.
The film also takes us deep into Woody's life, including his past and his present. We meet Woody's extended, wonderfully odd family;  his childhood friends, including Ed Pegram, (Stacy Keech) and learn exactly who this old, cantankerous, and cold man really is.

We also find out why this money is so important to him and why it's vital for him to leave something behind before he dies.

'Nebraska' is a must see for anyone who loves movies in their purest form. There are no special effects; just great characters who tell their story with very few words.

I gave 'Nebraska' which opens in theatres, Friday November 15, 2013, five bagels out of five and SURPRISE, so did John.

Check out our video for more of our thoughts.
Please 
SUBSCRIBE
 to our channel on 
YouTube
 and 
LIKE
 us on our Two Jews on Film 
Facebook page
.
Let us know what you think about this film. Thanks everyone.