Nearly Nude Rihanna Sips Wine In Pantsless Photos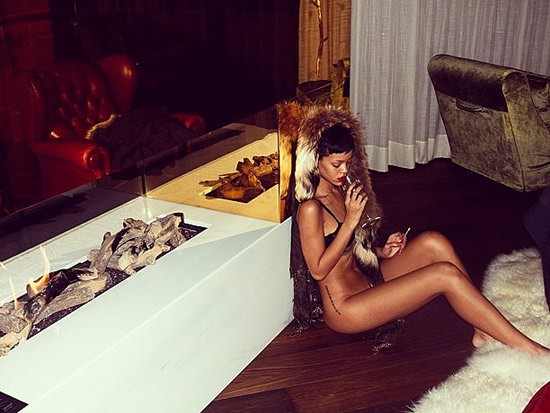 What could possibly be better than lounging around with a glass of wine and no pants on? Not much, according to Rihanna, who did just that over the weekend with pal Melissa Forde.

The singer continued her exhibitionist ways by showing of lots of skin in just a black bra and fur stole for a couple of daring new photos that Forde shot and posted to her twitter feed via Instagram.

"Who needs fashion when there's pu--y ?" wrote Forde, leading some to wonder if there might be more than just friendship between the two women.

But RiRi's posts to her own twitter page hint at the photo being a reminder for Chris Brown not to mess up their rekindled romance after he was seen out partying with ex-girlfriend Karrueche Tran after his show in Paris on Friday night. Rihanna was reportedly furious about that; posting, "Examine what you tolerate, goodbye muthaf---er."

"She can't get it into her head that Chris will never change," a source told British tabloid The Sun.

But Saturday morning she posted a photo of herself with a tattooed arm around her -- presumably Brown's -- and the message, "Damn....... I miss my ni--a." The Sun also reports that she had Brown's nickname -- "Breezy" -- tattooed on her neck recently.

"She got it to symbolize her commitment to him. Now the world knows they're back together, they're determined to make it work," the source added.