Nearly 8 Hours of Music Featured on MGM Musicals Anthology; Out April 25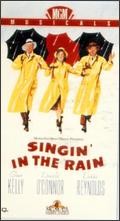 Movie music fans rejoiced in 1995 when Turner Classic Movies Music and Rhino Movie Music partnered for an exhaustive five disc collection featuring indelible musical performances from MGM's golden age. A decade and more than 200 classic movie soundtrack releases later, Turner/Rhino revisits the centerpiece of its successful ongoing partnership to create a truly definitive collection of MGM musical magic.
"
That's Entertainment!
" The Ultimate Anthology of MGM Musicals" expands the original landmark release with an entire disc of never-before-released music, and uses new technology to upgrade the sound quality of 30 percent of the original box set. The newly expanded and upgraded version of "
That's Entertainment!
" is available April 25.
The six-CD collection contains 135 tracks (nearly 8 hours of music-gathered from MGM movies released between 1929 and 1957) including unforgettable performances from more than 75 classic musicals such as
The Wizard Of Oz
,
Meet Me In St. Louis
,
Singin' In The Rain
,
Easter Parade
,
Kiss Me Kate
,
Brigadoon
,
An American In Paris
and more.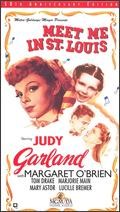 In addition to the sixth disc filled with never-before-released outtakes and vault rarities, this newly revised boxed set features beloved musical numbers, performed by some of the biggest names among Hollywood royalty, which were not included in the original 1995 boxed set, including: a trio of
Bing Crosby
duets from 1956's High Society featuring
Frank Sinatra
for "Well, Did You Evah?,"
Louis Armstrong
for "Now You Has Jazz," and
Grace Kelly
for "True Love;"
Doris Day
sings "Ten Cents A Dance" and "Shakin' The Blues Away;"
Elvis Presley
leads the prison band through "Jailhouse Rock;" and
Fred Astaire
and
Janis Paige
perform "Stereophonic Sound" from Silk Stockings.
The collection's sixth disc contains 25 performances that have never been released including demos, outtakes and complete version of songs edited for film. Highlights include: two songs from the uncompleted film
The March Of Time
, including Bing Crosby singing "Poor Little G-String;"
Jimmy Durante
and
Polly Moran
spoofing "Shuffle Off To Buffalo" with a song by
Rodgers and Hart
called "Fly Away To I-Oway;" "You Belong To My Heart" featuring
Yvonne DeCarlo
, who later earned fame as television's Lily Munster; a pair of songs performed by Joan Crawford ("Follow Me" and "Something's Gotta Happen Soon");
Lena Horne
singing "You Won't Forget Me," a song later used and lip-synched by
Joan Crawford
in Torch Song; the complete version of "My Man" performed by
Fanny Brice
(the inspiration for the movie
Funny Girl
); and "Baby Doll" performed by
Gene Kelly
for
Take Me Out To The Ballgame
, a song cut from the movie but sung later by Fred Astaire in
Belle Of New York
.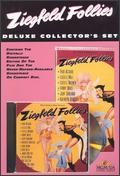 In addition to the "
That's Entertainment!
" CD box, Classic Musicals From The
Dream Factory
- a collection of five newly-remastered favorites from Metro-Goldwyn-Mayer's Golden Era all making their debut on DVD from Warner Home Video on April 25. The titles include
It's Always Fair Weather
,
Summer Stock
,
Three Little Words
,
Till the Clouds Roll By
, and
Ziegfeld Follies
and contain some of the most memorable numbers by the greatest stars of the genre, including
Judy Garland
, Fred Astaire and Gene Kelly. This spectacular collection of the fabled studio's vintage musicals features some of the most eye-popping numbers in the history of the film musical. In addition to Judy, Fred and Gene, the studio piles on Lena Horne,
Esther Williams
,
Cyd Charisse
,
June Allyson
, Frank Sinatra,
Van Johnson
,
Kathryn Grayson
,
Lucille Ball
,
Red Skelton
,
William Powell
, and too many to name them all!
Each feature film in this collection has been meticulously restored and remastered from its original elements by Warner Home Video and complemented with new featurettes, rare outtake musical numbers, audio only bonus outtakes and vintage cartoons.