'NCIS' Recap: 'Truth Or Consequences'

Last season,
NCIS
ended with an in-the-middle-of-a-Jack-Bauer-esque-torture-session Ziva, and it picks up a few months later with the same Middle Eastern torturer, Salim, injecting Tony with truth serum. It goes to commercial break with Tony telling Salim his mission is vengeance for Ziva, "I'm here to kill you." And there we have it-- vengeance has always been the fuel for team Gibbs as well as a strong unrelenting theme of the show. Tony hints at this when Salim asks about the fourth member of the team. Tony responds telling him that they lost her four years ago-referencing the loss of Special Agent Caitlin Todd at the end of season 2 (episode 2.23 'Twilight'), and not Ziva David, who has filled her position as a liaison to NCIS, and not exactly a full team member.
Team banter, especially between Tony and McGee are found in the flashbacks, which is intelligent as it keeps the grave tone of the present time (with Tony and McGee being tortured by Salim) while also providing the audience with the show's cornerstone of the somewhat sibling-esque humor. The flashbacks also have two more points of significance: they establish the events leading up to the present as well as acting as a security blanket for fans who do not appreciate the fact that in June McGee and Tony were interviewing female replacements for Ziva. Pulling back to the present, Salim asks why they even tried to replace Ziva. Tony responds, "She's dead." Now, while this is plausible, as the only way female NCIS leads 'leave' is via the autopsy bay (Caitlin Todd, Jenny Shepard), it clearly doesn't, and will never, happen with Ziva.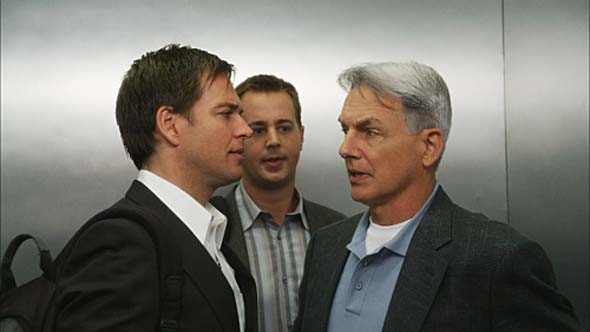 Image © CBS
At The End of The Day:
1.
'NCIS' season premieres NEVER disappoint. Even if it all goes down in only the last 15 minutes of the episode.
2.
The conversation between Salim and Tony, as well as the interviews with possible Ziva replacements, was a great tool to welcome new viewers with Tony's character descriptions of everyone from Gibbs to Abby to Leon.
3.
For 'True Blood' fans: did you notice Chad the soldier Gibbs video-conferenced with? That was Terry (or as I like to say, PTSD Terry)!
4.
The show doesn't hold without Ziva. I was as unsettled as Tony, Abby, McGee, and Gibbs were in the flashbacks. Bringing her in three quarters into the episode was no shock, but lit starter fluid for the rest of the season, and it's going to be all about Ziva.
5.
Extended torture scenes do not work anymore. Thanks to '24' and other shows that heavily focus on politically motivated torture, it isn't as provocative as it used to be. My jaded reactions didn't hit me until Salim backed up to reveal a beaten McGee on the floor by Tony. McGee is the Bud of 'NCIS' (Bud is the beta male character from 'NCIS's older brother 'JAG') and I didn't feel as horrified as I did when Bud lost a leg in a later episode of 'JAG'. Beta males are like cute little puppies-if they are hurt in any way, or do anything sweet, you are trained to react with strong emotions. Not feeling that way with McGee is bad for the writers.
NCIS-meter
McGee nicknames:
0
Tiva moments:
1 big one: Tony goes out for vengeance even though he thought Ziva was dead. Twist- she calls him on it and says he shouldn't have; that she is ready to die. Sorry Tiva fans, this is definitely going to affect their relationship in a very dark, negative way.
McAbby moments:
0
Ducky/Corpse Convos:
0
Gibbs' Slap:
0
Tony's Film References:
2 (best one is 'True Lies')
Overall Episode Rating:
4/5
NCIS cast:
Mark Harmon
,
Michael Weatherly
,
Sasha Alexander
,
Pauley Perrette
,
Pauley Perrette
,
Alan Dale
,
Lauren Holly
,
Cote de Pablo
, more
Bookmark our 'NCIS' News page & check back for regular episode recaps & news!
Story by
Sarah Lafferty
Starpulse contributing writer
Follow Sarah on twitter at
starbuckscout
.