NCIS
crime of the day is a triple homicide discovered by a stripper. Killer set up Officer Shelley, framed the crimes as if he was retaliating- having a serious grudge against Shelley's bullies in high school. Not surprisingly, we are led to believe it is the stripper's boss, Hector. Elena as the revealed killer, who also set up Shelley, is somewhat of a stretch. Not nearly as interesting as the subplots of the team members- especially the big reveal discussed below.
Team Subplots
Ziva's return to the group is up in the air. Her first move is to go to see Gibbs in his basement. She thanks him, giving him a chisel. The discussion between her and Gibbs was necessary in order for her to successfully rejoin the team. Vance asking Ziva if her father has given the ok in her return to NCIS is somewhat justified, as she was originally a Moussad liaison. Him telling her, "You're damaged goods, How damaged I need to know before I can do anything with you," was uncalled for. And then ordering a psych eval on Ziva? Puh-lease. Granted, he comes back and tells Gibbs, after only one eval, that she has been cleared.
The fight between Tony and McGee over sidekick status is classic Tony/McGee. Sadly, with Pauley Perrette pulling double duty over on 'NCIS: Los Angeles', she isn't there to stand by and chastise them both. Although, having her have a private moment with Abby was incredibly necessary- even more so, as Abby is the little sister of the group. Her speech is exactly what Ziva needed. Talking with McGee in the park was expected, as she thanked him for the events in Africa. He calls her on avoiding Tony; but it is only obvious that the best part of the episode is the Tony/Ziva bathroom talk.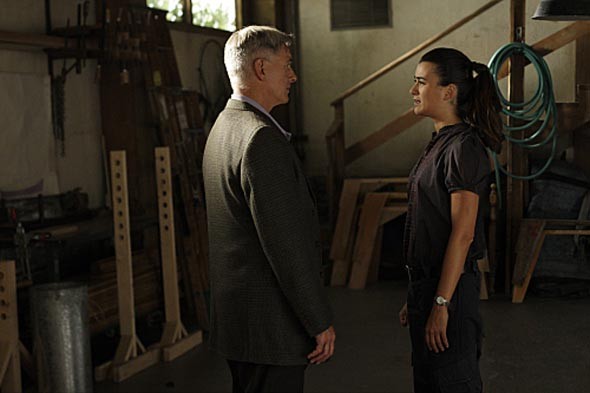 When Gibbs (Mark Harmon, left) is given the final word on Ziva's (Cote de Pablo, right) future with NCIS, he finds the decision harder to make than he expected © CBS Broadcasting Inc.
Tony singing in the bathroom? Priceless. Ziva's appearance, even better. She admitted that she almost killed him for killing Michael (her boyfriend last season). She also explains her thanks for his actions, "That you had my back. That you always had my back. I was wrong to question your motives. I trusted my brother Ari, and Michael. I could not afford to trust you."
She kisses him on the cheek and tells him that she should have trusted his cop instincts.
BIG REVEAL:
Ziva, back in early season three (as in 'Kill Ari: Part 1' and 'Kill Ari: Part 2', originally had orders from her father to kill her brother Ari to gain Gibbs' trust. She admits she would have lied for Ari, but that she was wrong about Ari and Gibbs. When she pulled the trigger, in 'Kill Ari: Part 2', she truly meant protect Gibbs from Ari. He distrusted her, hence his hesitation on having her back, but realizes that her confession was truthful and that she has gained a full position in their NCIS family.
Fun Guest Stars:
1. Ack! '
Dark Angel
' reunion!
Valarie Rae Miller
aka Original Cindy is a temporary replacement for Ziva, who soon quits. Banter between her and Michael Weatherly was a great nod to fans.
2. Elena, secretary of Eric, one of the homicide victims, was formerly a nurse on '
Grey's Anatomy
'… you know, the one who had an affair with both Alex and George.
NCIS-meter
McGee nicknames:
McSidekick, McProof
Tiva moments:
1
McAbby moments:
0
Ducky/Corpse Convos:
0
Gibbs' Slap:
0
Tony's Film References:
0
Overall Episode Rating:
4.5/5- for the Tiva bathroom scene and the reveal of Ziva's original orders in regards to Ari's death.
Bookmark our 'NCIS' News page & check back for regular episode recaps & news!
Story by
Sarah Lafferty
Starpulse contributing writer
Follow Sarah on twitter at
starbuckscout
.