NBC's 'Revolution' Review: More Than A Shot In The Dark?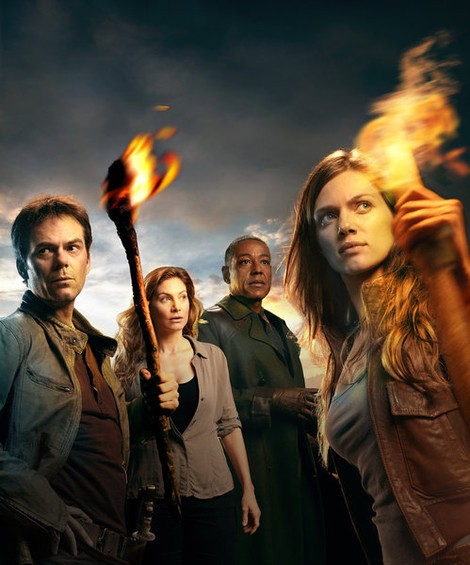 NBC has a much-needed hit their hands, and it's not "Guys With Kids."  It's "Revolution," a riveting sci-fi drama from the mind of "Supernatural" creator Eric Kripke, produced by J.J. Abrams ("Lost," "Fringe") that could re-energize the institution of appointment television that's withering, thanks to iTunes, Tivo and DVRs. 
"Revolution" tells the story of life after a mysterious event that essentially kills electricity and all electronics, plunging the entire world into darkness. Fifteen years after the blackout governments have fallen.  States devolved into isolated republics and the suburbs into armed villages.  The show hones in on Ben Matheson (a wholesome Tim Guinee) and his endangered and, of course, ruggedly hot children: fierce Charlie (Tracy Spiridakos) and her little brother Danny, who is spirited and asthmatic.  Of course, there is a bigger conspiracy that begins to reveal itself when Ben is cut down by a Milita unit led by "Breaking Bad's" Giancarlo Esposito.  His dying breaths are spent to tell his daughter to go find her uncle in Chicago, because he's "good at killing," and he'll be able to help her save her kidnapped brother. 
The pilot, directed by "Iron-Man's" Jon Favreau, is a masterful, slick brace of television that manages to live up to NBC's intensive hype.  "Revolution" is a contemporary "Swiss Family Robinson" crossed with "The Hunger Games" and maybe even "Lord Of The Rings."  Most of the characters remember what it was like before the darkness, and some of them are haunted by it.  Money has no meaning.  Healthcare is non-existent.  Ice cream and iPods are just fading memories.  
Spiridakos plays Charlie, the strong and lively young woman with a tangible, dow-eyed desperation.  She's television-tough, so she wears tight leather pants, midriff baring shirts and isn't afraid to fight, although she's not that good at it.  She's Katniss Everdeen watered down by her own tears and dreams of life beyond her village.   Billy Burke as her estranged Uncle Miles is an enigma wrapped violence and steeped in cynicism.  He's also the impetus behind action scenes so badass it puts some Hollywood movies to shame.  Swords are the new bow and arrows.  My favorite character is Esposito, who creates yet another epic television villain.  The Emmy-nominated actor who brilliantly portrayed the boxed-in psychopathic meth dealer on "Breaking Bad," blossoms into this role as Tom, a Militia captain.  He's a few facial tics and gestures away from chewing on the scenery, and that's a glowing compliment to his craft.
Beyond the stunning visuals, surprisingly awesome battle scenes and more than decent acting are images and themes from the creator and producer's past work that feel familiar but not rehashed.  If you've seen Kripke's other sci-fi show, the "watch out for your brother theme" is definitely a running subject for this visionary. 
While, "Revolution" has a refreshingly diverse cast, it's a little disappointing to find most of the minority characters work for the mysterious and powerful militia.  However, as evidenced by the closing minutes of "Revolution," nothing, including the blackout, is as it seems. 
"Revolution" premieres Monday, Sept. 17 on NBC at 10 p.m. EST.  
Grade: A