NBC 'Today Show' Hosts Dress Up As Lady Gaga And Justin Bieber For Halloween! (Video)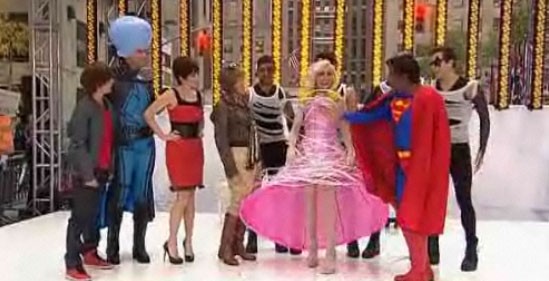 We're always looking forward to see what the Today show hosts are going to wear for their annual Halloween show. Last year the cast wore fantastic Star Wars costumes, but this time around they went for a pop music feel, with a few classics as well.
Meredith Vieira dressed up in Lady Gaga's pink hoop dress for a performance as the star, and Natalie Morales put on Justin Bieber garb for a second song! Matt Lauer dressed up as Clark Kent, then transformed into Al Roker in a Superman costume. Megamind stars Will Ferrell and Tina Fey showed up as their characters from the movie with Roker and Ferrell saving Fey from a runaway train.
We already can't wait to see what the cast comes up with for next year. So, who do you think had the best costume?