NBC Storms Comic-Con 2008 With 'Heroes,' 'Battlestar Galactica,' & Much More

NBC Universal will be decked out in full force at Comic-Con 2008 with individual panels for the starring casts of "
Heroes
," "
Battlestar Galactica
," "
Knight Rider
," "
Chuck
," "Kings," "
Stargate Atlantis
," "Ghost Hunters," "
Eureka
," the writers from the hit series, "
The Office
" with series star
Rainn Wilson
as moderator.
Executive producer Jason Smilovic from the new NBC drama "My Own Worst Enemy" and executive producer Ron Moore for Universal Media Studios' FOX pilot "Virtuality" will participate on the TV Guide "Hot List" panel, while "Chuck" executive producer Josh Schwartz ("
Gossip Girl
") will be a panelist on
Entertainment Weekly's
TV Showrunners Visionary panel.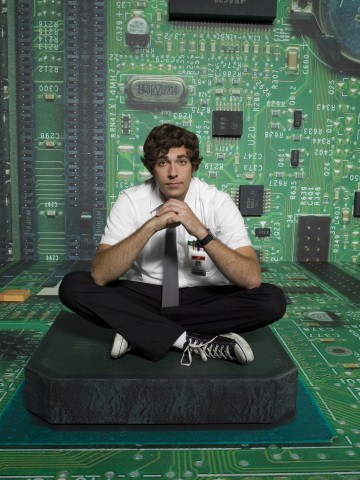 The NBC Universal booth will greet fans with a "Heroes," "The Office" and "
30 Rock
" theme. The booth will allow attendees to purchase merchandise from their favorite shows and will host the re-launch of voting for the "Heroes Sprint Create Your Hero" promotion.
At SCI FI's booth -- which was the recipient of the Exhibitor Magazine Design Gold Award and was featured in Interior Design Magazine -- giveaways will include tens of thousands of coveted premiums from popular shows such as "Battlestar Galactica" and "Ghost Hunters." Additionally, a "Eureka"-branded ice cream truck will run a dedicated route distributing free ice cream to promote the third season return of the popular dramedy on July 27. The ultimate party destination will be jointly hosted by SCI FI and Entertainment Weekly and will highlighted by a glamorous, star-studded Saturday night celebration.
In addition, the newly remodeled KITT Attack Car from "Knight Rider" makes its debut at the unveiling adjacent to the convention center. Fans will have an opportunity to interact with the car while series stars Justin Bruening, Deanna Russo and executive producer Gary Scott Thompson also make appearances.
NBC.com will provide extensive Comic-Con coverage, with exclusive video of panels, fans and daily events, plus talent interviews and surprise guests. In addition to showing exciting new episodes from The Office and Heroes webisodes, NBC.com will also feature a sneak-peek at a new groundbreaking original web series, Gemini Division, starring Rosario Dawson coming this August. SCI FI.com will provide video coverage, exclusive interviews and a SCI FI prize package sweepstakes.