NBC Releases Fall Lineup With 5 New Dramas, 7 New Comedies
NBC has unveiled its programming slate for the 2014-15 season, which includes a slew of new comedies and dramas.
Debra Messing stars as a detective balancing work and kids in "The Mysteries of Laura." Katherine Heigl ("Grey's Anatomy") returns to television as a CIA analyst in the political drama "State of Affairs." Hope Davis is forced to choose between family and country in the modern-day spy drama "Allegiance." A popular DC Comics character battles dark forces in "Constantine," and three characters collide in "Odyssey."
Will Ferrell and Adam McKay are the minds behind the comedies "Bad Judge" and "Mission Control," while Tina Fey and "30 Rock" colleague Robert Carlock present "Unbreakable Kimmy Schmidt." Ellen DeGeneres is producing "One Big Happy." Other comedies include "A to Z," "Marry Me" and "Mr. Robinson."
CHECK OUT THE TRAILERS BELOW!
Returning series include: "About a Boy," "The Blacklist," "Chicago Fire," "Chicago P.D.," "Grimm," "Hannibal," "Law & Order: Special Victims Unit," "Parenthood" and "Parks and Recreation."
The new season will also include "event series" "Emerald City," "Aquarius," "A.D." and "Heroes Reborn."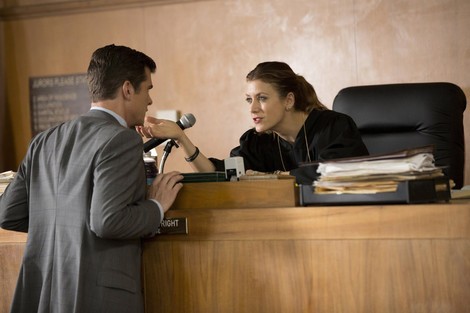 NBC Fall 2014-15 Schedule
(new programs in upper case; all times ET)

MONDAY
8-10 p.m. — "The Voice"
10-11 p.m. — "The Blacklist" / "STATE OF AFFAIRS" (beginning Nov. 17)

TUESDAY
8-9 p.m. — "The Voice"
9-9:30 p.m. — "MARRY ME"
9:30-10 p.m. — "About a Boy"
10-11 p.m. — "Chicago Fire"

WEDNESDAY
8-9 p.m. — "THE MYSTERIES OF LAURA"
9-10 p.m. — "Law & Order: SVU"
10-11 p.m. — "Chicago P.D."

THURSDAY
8-9 p.m. — "The Biggest Loser"
9-9:30 p.m. — "BAD JUDGE" ("The Blacklist" beginning Feb. 5)
9:30-10 p.m. — "A TO Z"
10-11 p.m. — "Parenthood"

FRIDAY
8-9 p.m. — "Dateline NBC"
9-10 p.m. — "Grimm"
10-11 p.m. — "CONSTANTINE"

SATURDAY
8-11 p.m. — Encore programming

SUNDAY
7-8:20 p.m. — "Football Night in America"
8:20-11:30 p.m. — "NBC Sunday Night Football"