NBC Kicks Off The 84th Annual 'Macy's Thanksgiving Day Parade'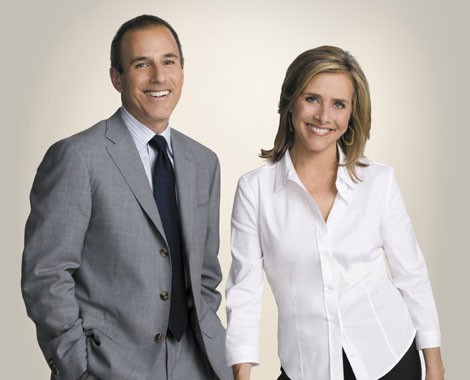 The live broadcast for NBC's 84th annual Macy's Thanksgiving Day Parade, co-hosted by "Today's" Matt Lauer and Meredith Vieira, along with Al Roker, will air tomorrow on NBC from 9:00 a.m. until noon in all time zones. The parade is one of the nation's most memorable and cherished spectacles and will feature some of today's brightest stars. 
"Kylie Minogue is coming aboard. Victoria Justice is going to be on our Build-A-Bear Workshop float. Jessica Simpson is here this year. Joan Rivers is playing the Snow Queen. I want you to know this is something a lot of people wanted, she's going to be one of the unsung heroes through the parade. That's going to be truly our campaign moment, " shares Robin Hall, Macy's Senior Vice President of Macy's Parade and Entertainment Group.
Robin Hall is the leader of Macy's events team and is in charge of leveraging the brand's events across the country and developing strategic partnerships with the entertainment industry including television, film, music, and licensed properties. This is actually the last year that Hall will be responsible for the parade, so you know that he is definitely going out with a bang. 
"Yeah, we have a fantastic new float this year, which is actually in the shape of my top hat. I think they did that as a little bit of a salute to me. And that's an Apollo Theater float and we are going to feature the winners of all of the amateur night contests, the adults and the kids, on that float. And then, at the top of the float is going to be Gladys Knight, who was the true Apollo Theater legend and she's going to appear this year", Hall shares.
In addition, Jimmy Fallon and The Roots will appear on a fantastic ten million pound float made out of 18 gauge steel locomotive, that is sponsored by Macy's. "We're going to do a version of "Do They Know It's Christmas" from Band Aid, and Stevie Wonder's "What Christmas Means To Me", so we're kind of entertaining the thought of doing it sort of Temptation style with choreography and that type of thing," shares Quest Love from The Roots.
The parade this year is definitely going to be a memorable experience. So, if you will be in the New York area march on down to seventh and sixth Avenue to Macy's Herald Square, or if not be sure to tune in on NBC.