NBC Inaugurates '1600 Penn': Did It Get Your Vote?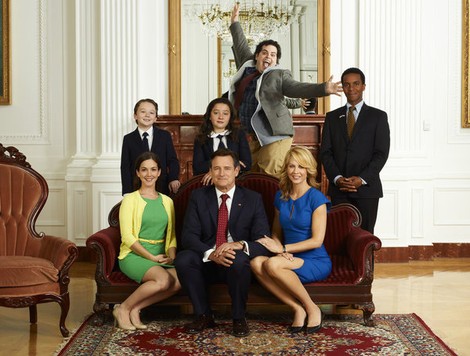 The White House seems to be a recurring setting for several television shows this past decade. ABC's Scandal, currently in its sophomore season, revolves around Olivia Pope (Kerry Washington), the former communications director to the President of the United States turned crisis management extraordinaire. The drama follows Pope and her crisis management team as they save the reputations of some of Washington D.C.'s finest with their professional fixing abilities. (Did I also mention Pope is in a love triangle with the POTUS?) This wasn't ABC's first attempt at a political based series. Back in 2006, ABC's Commander In Chief was yanked off the air after just one season. Although the series started off strong but later fell in the ratings, Geena Davis picked up a Golden Globe for her portrayal of Mackenzie Allen, the first female President of the United States. Then, of course, there's The West Wing, NBC's mastermind production from creator Aaron Sorkin that ran from 1999-2006. The critically acclaimed series followed the lives of the POTUS (Martin Sheen) and The White House staff members, made up of heavy hitters including but not limited to John Spencer, Allison Janney, Bradley Whitford, Rob Lowe, Joshua Malina and Mary-Louise Parker. This past week NBC rolled out 1600 Penn, a comedic series following the inner workings of The White House.
1600 Penn's premiere episode, "Putting Out Fires" introduced us to NBC's newest POTUS, President Dale Gilchrist (Bill Pullman) and the First Lady, Gilchrist's second wife, Emily (Jenna Elfman). The POTUS has four children: quirky, hilarious Skip (Josh Gad), overachiever Becca (Martha MacIssac), tough cookie Marigold (Amara Miller) and young, sweet Xander (Benjamin Stockham). Marshall Malloy (Andre Holland), the president's press secretary, has his hands full with the rambuncious Gilchrist family.
Josh Gad, executive producer and co-creator of 1600 Penn, created and established a comical character on the series with Skip, but it seems like his character is trying too hard to portray the comedic styles of actors Seth Rogen and Jonah Hill. Skip seems to be the character who means well, but always finds a way to do the exact opposite of what he's asked to do. In the premiere episode, Skip manages to accidentally set fire to a frat house after a retaliating prank goes wrong, fails to record a simple video on fire safety because he goes off on a tangent to Marshall and finds a way to get his dad in hot water he makes a friendly match too competitive. But alas, Skip finds a way to make everything OK at the end of the episode (Which I sense will be a common theme throughout the upcoming season). 
Aside from Skip's escapades, this episode we learned President Gilchrist's daughter, Becca, is pregnant. Emily goes on a rant during a press event when one of the kids asks her why her dad says she's a trophy wife. Marigold has a crush, who we later learn is a girl. Xander, the youngest of the brood, shows his sensitivity and smarts. And of course, there's tension between Emily and Becca, documenting the stereotypical stepmother/stepdaugher storyline. The most heartwarming part of the episode comes at the very end, when the clan heads out for pizza, adding the tight knit family element to the show.
As for it's debut, I think 1600 Penn has a bit of potential. If it can evolve like NBC's fellow comedy, Parks and Recreation, it might have the possibility to extend past a single season. Although the premiere episode originally aired on Dec. 17, this episode's 8:30 slot ratings matched NBC's comedy high in the slot this season. The 9:30 1600 Penn airing helped NBC get it's top non-sports rating in the Thursday night slot since November 2012. If that tells new fans of the show anything, that means that there's a solid chance it could stick around, especially with NBC's numbers.
Did you watch 1600 Penn? What did you think of the first two episodes? Should it stay or should it go? Let us know below.