NBC Announces New Fall TV Shows, 2011-12 Schedule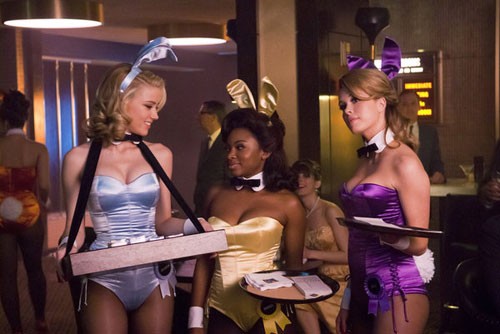 NBC just introduced its 2011-12 primetime schedule, showcasing six new dramas and six new comedies from a roster of renowned hitmakers that includes Steven Spielberg, Lorne Michaels, Brian Grazer, Tom Werner, John Grisham and Peter Berg, among many others.

The season's new dramas are "Smash," "Prime Suspect," "The Playboy Club," "Awake," "Grimm" and "The Firm"; and the new comedies are "Up All Night," "Whitney," "Are You There, Vodka? It's Me, Chelsea," "Free Agents," "Best Friends Forever" and "Bent."

Returning shows include "Parenthood," "Law & Order: Special Victims Unit," "Harry's Law," "Chuck" (for its fifth and final season of 13 episodes), "Community," "Parks and Recreation," "The Office," "30 Rock" and "Dateline NBC." Among next season's returning alternative series are "The Voice," "The Sing-Off," "The Celebrity Apprentice" and "The Biggest Loser," each in two-hour formats.

NBC FALL 2011-12 Schedule (New programs in upper case; all times ET)

MONDAY
8-10 p.m. - "The Sing-Off"
10-11 p.m. - "THE PLAYBOY CLUB"

TUESDAY
8-10 p.m. - "The Biggest Loser"
10-11 p.m. - "Parenthood"

WEDNESDAY
8-8:30 p.m. - "UP ALL NIGHT"
8:30-9 p.m. - "FREE AGENTS"
9-10 p.m. -- "Harry's Law"
10-11 p.m. -- "Law & Order: Special Victims Unit"

THURSDAY
8-8:30 p.m. - "Community"
8:30-9 p.m. -- "Parks and Recreation"
9-9:30 p.m. - "The Office"
9:30-10 p.m. - "WHITNEY"
10-11 p.m. - "PRIME SUSPECT"

FRIDAY
8-9 p.m. - "Chuck"
9-10 p.m. - "GRIMM"
10-11 p.m. - "Dateline NBC"

SATURDAY
Encore programming

SUNDAY
7- 8:15 p.m. -- "Football Night in America"
8:15-11:30 p.m. -- "NBC Sunday Night Football"

NBC 2012 MID-SEASON HIGHLIGHTS
*New programs in UPPER CASE; all times ET)

SUNDAY
7-8 p.m. - "Dateline NBC"
8-10 p.m. - "The Celebrity Apprentice"
10-11 p.m. - "THE FIRM"

MONDAY
8-10 p.m. - "The Voice"
10-11 p.m. - "SMASH"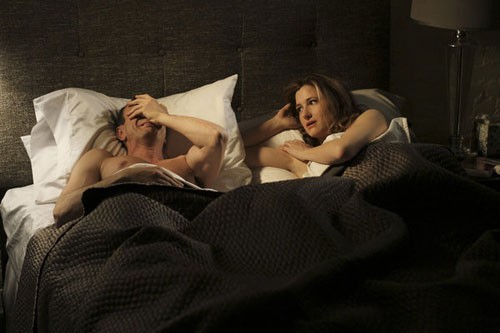 NEW DRAMAS:

PRIME SUSPECT -- Based on the critically acclaimed British television series of the same name, "Prime Suspect" has been redeveloped for American audiences by writer Alexandra Cunningham ("Desperate Housewives," "NYPD Blue"), director Peter Berg (NBC's "Friday Night Lights") -- and stars Maria Bello ("A History of Violence") as tough-as-nails Detective Jane Timoney. Timoney finds that being a homicide detective in New York City is tough enough and having to contend with a male-dominated police department to get respect makes it that much tougher. She's an outsider who has just transferred to a new precinct dominated by an impenetrable clique of a boys' club. Timoney has her own vices too -- with a questionable past -- and she tends to be forceful, rude and reckless. But she's also a brilliant cop who keeps her eye on one thing: the prime suspect.

THE PLAYBOY CLUB -- From Academy Award-winning executive producer Brian Grazer, "The Playboy Club" is a provocative new drama about a time and place that challenged the social mores, where a visionary entrepreneur created an empire and an icon changed American culture. It's the early '60s, and the legendary Playboy Club in Chicago is the door to all of your fantasies -- and the key is the most sought-after status symbol of its kind. Inside the seductive world of the bunny, the epitome of beauty and service, the clientele rubs shoulders with the decade's biggest mobsters, politicos and entertainers. Nick Dalton (Eddie Cibrian, "CSI: Miami") is one of the city's top attorneys and the ultimate playboy, rubbing elbows with everyone in the city's power structure. With mysterious ties to the mob, Nick comes to the aid of Maureen (Amber Heard, "Zombieland"), the stunning and innocent new bunny who accidentally kills the leader of the Bianchi crime family. Dating Nick is Carol-Lynne (Laura Benanti, "Take the Lead"), a bombshell and established star at the club who knows her days as a bunny are numbered and finds herself continually at odds with Billy (David Krumholtz, "Numb3rs"), the club's general manager.

SMASH -- "Smash" is a musical drama that celebrates the beauty and heartbreak of the Broadway theater as it follows a cross-section of dreamers and schemers who all have one common desire -- to be a "Smash." The series centers on a desire to create a Broadway musical based on the life of Marilyn Monroe -- written by the successful songwriting duo of Tom (Tony Award nominee Christian Borle, "Legally Blonde: The Musical") and Julia (Emmy Award winner Debra Messing, "Will & Grace"). Julia recently began the process of adopting a child with her husband of many years, but her focus is torn when she has the opportunity to write another Broadway hit. A rivalry soon forms for the lead role between a youthful, inexperienced Midwestern beauty (Katharine McPhee, "American Idol") -- who is trying to find fame in the big city against all odds -- and stage veteran (Megan Hilty, "9 to 5: The Musical"), who's determined to leave the chorus line and finally get her big break. A tenacious producer Eileen (Oscar winner, Anjelica Huston, "Prizzi's Honor") discovers the "Marilyn" project and jumps on board with a brilliant director (Jack Davenport, "Pirates of the Caribbean" films) -- whose talent is matched by his cunning and egocentric amorality.

GRIMM -- "Grimm" is a new drama series inspired by the classic Grimm's Fairy Tales. Remember the fairy tales your parents used to tell you before bedtime? Those weren't stories -- they were warnings. Nick Burkhardt (David Guintoli "Turn The Beat Around") thought he prepared himself for the realities of working as a homicide detective until he started seeing things he couldn't quite explain. When his ailing Aunt Marie (guest star Kate Burton, "Grey's Anatomy") arrives, Nick's life turns upside down when she reveals they are descendants of an elite group of hunters, also known as "Grimms," who fight to keep the balance of humanity safe from the supernatural creatures of the world. As Nick digs deeper into her past, he realizes that he will have to shoulder the responsibility of his ancestors -- and contend with a larger-than-life mythology of the Brothers Grimm that is now all too real.

AWAKE -- "Awake" is an intriguing drama about a detective (Jason Issacs, "Harry Potter," "Brotherhood") who finds he is leading an arduous double life that defies reality. When Detective Michael Britten (Issacs) regains consciousness following his family's car accident, he is told that his wife Hannah (Laura Allen, "Terriers") perished but that his teen son, Rex (Dylan Minnette, "Saving Grace"), has survived. As he tries to put the pieces of his life back together, he awakens again in a parallel reality in which his wife is very much alive -- but his son Rex died in the accident. In order to keep both of his loved ones alive at one time, he begins living two dueling realities in parallel worlds, which churns up confusion -- in one moment, Michael and his wife debate about having another child to replace their son, while in the other reality, he is attracted to his son's tennis coach, Tara (Michaela McManus, "The Vampire Diaries"), to fill the void from the loss of his wife. Trying to regain some normalcy, Michael returns to police work and solves crimes in both worlds with the help of two different partners -- Detective Isaiah "Bird" Freeman (Steve Harris, "The Practice") and Detective Efrem Vega (Wilmer Valderrama, "That '70s Show").

THE FIRM -- Based on the blockbuster feature film and best-selling novel by world-renowned author John Grisham ("The Pelican Brief," "The Client"), "The Firm" continues the story of attorney Mitchell McDeere and his family 10 years after the events of the film and novel. As a young associate, McDeere brought down the prestigious Memphis law firm of Bendini, Lambert & Locke, which operated as a front for the Chicago mob -- and his life was never the same. After a difficult decade, which included a stay in the Federal Witness Protection program, Mitch and his family now emerge from isolation to reclaim their lives and their future -- only to find that past dangers are still lurking and new threats are everywhere.

NEW COMEDIES:

WHITNEY -- A hilarious look at modern love, "Whitney" is a new multi-camera comedy series about Whitney (Whitney Cummings, "Chelsea Lately") and Alex (Chris D'Elia, "Glory Daze"), a happily unmarried couple. Together for five years, the duo is in no rush to get hitched. However, after attending yet another one of their friends' weddings, Whitney realizes that she and Alex are dangerously close to relationship boredom. Determined not to let that happen, Whitney consults her close circle of opinionated girlfriends -- including Lily (Zoe Lister-Jones, "The Other Guys") and Roxanne (Rhea Seehorn, "The Starter Wife") -- and then snaps into action. A few awkward sexy costumes and one botched seductive evening later, the couple ends up in the emergency room. Even so, Whitney and Alex realize that while their relationship might not be perfect on paper, they really do love each other -- and that works for them. Also starring are Maulik Pancholy (NBC's "30 Rock") as Lily's perfect boyfriend, and Dan O'Brien ("How I Met Your Mother") as an eternal bachelor. "

UP ALL NIGHT -- From Emily Spivey (NBC's "Parks and Recreation," NBC's "Saturday Night Live") and legendary Emmy Award-winning producer Lorne Michaels, comes "Up All Night," a modern take on parenthood that shows the challenges of balancing a career, marriage and a new baby. Christina Applegate ("Samantha Who?") stars as Reagan, a successful public relations executive, and Will Arnett ("Arrested Development") plays Chris, Reagan's supportive, stay-at-home husband. The two have just become parents - a surprise that has set their lives on a new path as responsible adults -- for the most part. Maya Rudolph ("Saturday Night Live," "Bridesmaids") stars as Ava, Reagan's outlandish boss and best friend, whose whirlwind social escapades serve as constant reminders of Reagan's former carefree life. James Pumphrey ("High Road") portrays Brian, Reagan's socially awkward hipster assistant.

FREE AGENTS - "Free Agents" is a crooked workplace/romantic new comedy from creator John Enbom ("Party Down") and Emmy Award-winning director Todd Holland ("Malcolm in the Middle") based on the cult U.K. series of the same name that explores the trials and tribulations of two public relations executives on the rebound. Alex (Hank Azaria, "The Simpsons," "Huff") is newly divorced and can barely keep himself together while his co-worker Helen (Kathryn Hahn, "Hung") thinks she has it together but is obsessed with her deceased fiancé and actually is falling apart. Then a drunken Alex and Helen end up in bed together, and in the resulting sober confusion, Helen decides that they should only be friends. Meanwhile Alex's co-workers, Dan (Mo Mandel, "Love Bites," "Modern Family") and Gregg (Al Madrigal, "Wizards of Waverly Place," "Gary, Unmarried"), and Stephen (Anthony Head, "Merlin," "Buffy the Vampire Slayer") fail in their attempts to help him get back out on the dating scene. When Alex finally agrees to a date, Helen gets a little jealous, and he gets cold feet, so they end up back where they started -- in a casual, intimate and beautifully awkward relationship.

ARE YOU THERE VODKA? IT'S ME, CHELSEA -- Inspired by the best-selling book from comedienne/talk show host Chelsea Handler ("Chelsea Lately"), the new comedy "Are You There, Vodka? It's Me, Chelsea," follows the exploits of twentysomething bartender Chelsea (Laura Prepon, "That '70s Show") a strong-willed force of nature who is determined to live life to the fullest and make no apologies. Her friends are along for the ride but they all know it is Chelsea's way or the highway. Mark (Jo Koy, "Chelsea Lately") is a charming bartender whose wit makes him the perfect foil for Chelsea while Shoniqua (Angel Laketa Moore, "ER") is a smart and sassy fellow waitress who looks out for Chelsea's best interests. Close friend and fellow bartender Todd (Mark Povinelli, "Water for Elephants") has a wry sense of humor that keeps her in check.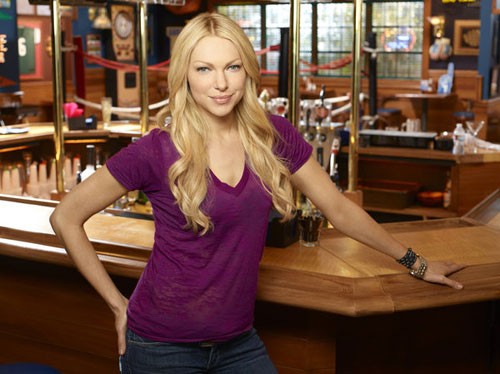 BEST FRIENDS FOREVER -- "Best Friends Forever" is a single-camera comedy that takes a look at what happens when best friends promise to support each other -- no matter what the cost or circumstances. When Jessica's (Jessica St. Clair, "In the Motherhood") husband files for divorce, she immediately seeks comfort and flies across the country to move back in with her best friend, Lennon (Lennon Parham, "Accidentally on Purpose"). Unfortunately, Lennon's boyfriend, Joe (Adam Pally, "Happy Endings"), has just moved into the apartment and has turned Jessica's old room into his perfect home office. As Lennon and Jessica fall into their old routines -- beloved traditions, Steel Magnolia marathons and epic girl-talk sessions -- Joe begins to feel as if he's the odd man out. While Lennon struggles to find balance between her previous life with Jessica and her new life with Joe, Jessica's reentry to single life is complicated by the unresolved feelings that an old friend, Rav (Stephen Schneider, "The Funniest Movie Ever...Just Kidding"), has for her and the fact that pleated khakis aren't the most flattering single girl look.

BENT -- "Bent" is a new romantic comedy about two people who suddenly find themselves attracted to the qualities that typically repel them. On the surface, Alex (Amanda Peet, "Studio 60 on the Sunset Strip") and Pete (David Walton, "Perfect Couples") could not be more different. The recently divorced Alex is a resilient and tough lawyer who now is raising her eight-year-old daughter, Charlie (Joey King, "Ramona and Beezus"), as a single mom. Unwilling to let anything get in her way, she downsizes into a smaller house, and she hires Pete, a recovering gambling addict and unapologetic womanizer, as the contractor to re-do her kitchen. The remodeling job is Pete's last chance to prove that he is no longer a screw-up -- but he doesn't know what's about to hit him when he encounters the force of nature that is Alex -- nor does she realize that she's met her match in Pete, a man unafraid to call out her flaws. Jeffrey Tambor ("Arrested Development") also stars as Pete's father, Walt, an out-of-work actor, while Margo Harshman ("Sorority Row") stars as Alex's wild younger sister Screwsie.