'Nature Will Always Win': National Geographic Channel's Alaskan Sue Aikens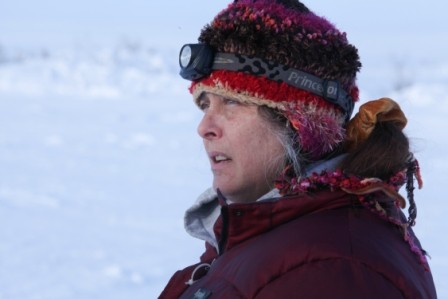 Starpulse.com's Jeza Belle caught up with Sue Aikens, star of the National Geographic Channel's show "Life Below Zero" which follows the lives of individuals living on the Alaskan Frontier.  While chatting, Sue shared her scary moments after being attack by a bear in the wilds, what it's like being a woman in a man's world, and how she got her salt of the earth personality.
What led you to Alaska and ultimately to the Kavik River Camp?
I was born in Chicago.  When I was quite young, the late 60's / early 70's, my mom decided to leave my father. One night, she threw a paper bag at us and said, "Pack one bag because you are moving to Alaska", since Alaska was as far as she could get…and that's how I got here! I lived fairly remotely throughout my life. The person that owned Kavik River Camp knew that I preferred that kind of lifestyle so he passed a message along in the manner we call "muck-ruck" messaging, which basically means you tell one person who tells another until someone runs into you and tells you that Mike wants to talk to you. He wanted me to run the camp from June through August but I said it was either year round or not going to happen. I had 32 giant Alaskan Malamutes, a four hundred mile trap line along the Jim River and a style of life.
You are hundreds of miles from the nearest city…do you ever get lonely at the camp? If so, what do you do to alleviate that?
I don't get lonely, because you can not be successful living as remote as I do if you come from an emotional place, especially any kind of negative emotion. To be lonely is to give into this negative emotion. I register that I live alone, but I don't feel lonely. I have little fox friends, and I find myself hilarious so I keep myself entertained most of the time! The only person we are guaranteed to wake up next to the rest of our God damn lives is yourself….so I like to laugh and look at the positive side. The river can be flooding your runway up to your crotch and you have to decide; what are you going to do? Laugh and grab a fishing pole…that's what!
 What was the scariest episode you had out there in wild?
I don't like to talk about it a lot because it puts it at the forefront of the brain and I tend to have nightmares about it, but most people refer to the time I was attacked by a bear. The scariest portion of it was when I was back in the dining hall here at the camp and I had to lay here for ten days before someone found me. Every night and day I was there, I couldn't move my arms or legs but I could hear another bear just a few short feet away from me through the tent wall. There was only that layer of thin tent wall between me and him and I could hear him chewing and crushing the bones of another animal. Its body would often hit the side of the building. A bear can smell for up to ten miles away so he knew I was there and there was nothing I could do but lie there and wonder if this would be my last breath before he came through and finished me.  
You have to be tough as nails to survive the way you do. Are people ever fascinated or surprised by the fact that you are a woman making it out there in a "man's" world so to speak? If so, how do you react?
I do hear the comment and get mail from people or comments on my Facebook page and it's amazing that many women say they are empowered by watching me. It's incredible how that trickles down. It's the ole 'throw a pebble in the middle of the ocean' type of thing where those ripples eventually become waves on a foreign beach…you never really know that what you do can enhance someone else's life! I don't view myself as male or female…I just see myself as Sue! I'm a Gomer Pyle goof-ball, who is the eternal five year old with an inquisitive mind with a scientific bent, but I'm just me.  Last night we had a negative pressure wild weather situation going on up here and both of my heat stoves blew up at two in the morning. The place was filled with smoke. First, I had to save my new little doggie, then go put out the fires, make sure they didn't start up again and move my living quarters to another building. In that respect, maybe the majority of women out there wouldn't have the fortitude to do all of that in 70 mile an hour winds and a blizzard…but many men wouldn't either.  One thing I know though; man or woman,  nature will always win!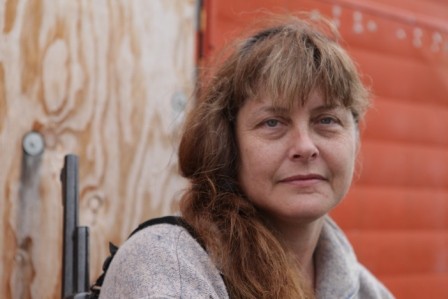 With that said, your role on the show actually provides a role model for anyone who has been told by society that they can't be whoever they want to be. What advice do you have for anyone that wants to go against the grain?
Giving advice would mean that I'm doing something right and can pass it on. I don't know if I'm doing it right but I am doing it right for me. Life is a learning process. First, you have to go through the list of questions when you are preparing to do something out of the box. Ask yourself if what you are doing going to be harmful to someone else. The family motto with my kids and grandkids is, "it's nice to be nice"…nothing we do in this world should intentionally harm other people. If you are not, then come to grips with the fact that you are the only person who can tell you, "no"!
In my household we are addicted to your SUE-ISMS, your straight and to the point vernacular…where do you get your down to earth wisdom?
We become who we are through the entirety of life's lessons. I'm missing that stop sign that most people have between 'Stop' and 'Verbal', where most people ask themselves, "do you really want to say that?"  For me it's just 'blat' …there it is! I have my own way. In fact, I can see now that I might have been a large shadow to grow up underneath for my children. Being far removed from everyone physically in Alaska, I've learned that a flower can't bloom in the sunshine if there is always a shadow hanging over. My family is very close on an emotional level, but I had to eventually in my life go back to being the wild mom running free in order for them to blossom.
I bet you never thought living in the arctic you would live to see the day that you would get to "Dish with the Drag Queen"…but here we go!
What's one thing you miss about the lower 48?
I love the opera! I don't miss anyone thing but I do love Opera. Also, I want to take the grandkids to Disney World!
What's a luxury item for you at the camp?
My bathtub! It's a fish tote…a big square plastic container that I realized after nine years I could turn into a bathtub. I drug it inside for my birthday present.  Now once or twice a year I allow myself enough water to fill it and I have a big ole decadent bubble bath!  
You must have some vice to while the cold hours away…drink of choice?
A really nice single malt scotch! You don't mainline it…a nice sipping scotch and a nice Cuban Cigar!
What does the future hold for you?
My long range goal is to be the only 100% green camp in the middle of the oil fields up here. I'm right in the middle of an all male play ground so to have some fat, stogie smoking son of a bitch like me put a green camp in their back yard would be a pretty cool feather in my cap! What's the worst you can hear if you try… "no"? It's not the first time I've heard it and it makes me want to accept the challenge even more.
For more information on Sue go to the Kavik River Camp website or National Geographic's "Life Below Zero" website. "Life Below Zero" airs Tuesdays at 10 PM ET/PT.