Native Americans Un-'Happy' With Pharrell Williams For Wearing A Feather Headress On Magazine Cover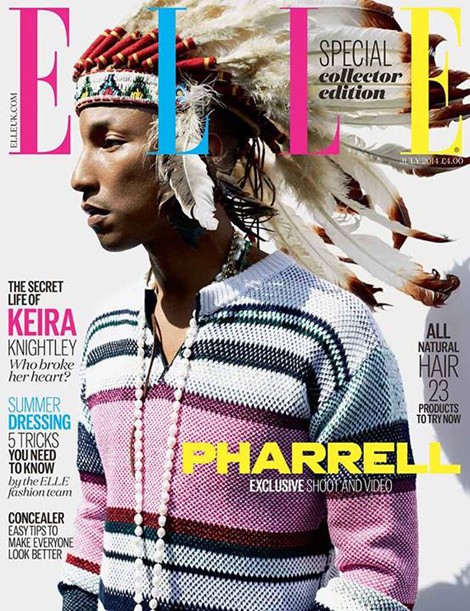 Singer Pharrell Williams is featured on the latest cover of Elle UK wearing a feather headdress, and his fashion statement has angered many fans as well as members of the Native American community.
Williams made headlines earlier this year for donning a Canadian mountie-like hat at the Grammy Awards. Elle UK says on its website: "We persuaded ELLE Style Award winner Pharrell to trade his Vivienne Westwood mountie hat for a native American feather headdress in his best ever shoot."
Fans are split on the decision by editors to feature the star in Native American garb. Some support the move, while others are appalled by it.
One person wrote on Facebook: "How many people on your staff looked at that photo and thought it was okay? It's really, really not okay. And Native people have been pointing out that it's not okay for non-Native people to wear headdresses for a really, really long time."
Another wrote: "To all those who say "I don't see the big deal, he respects native people." No.. Thats just ignorance. NOT EVEN A REGULAR NATIVE WOULD DARE PUT THIS ON UNLESS THEY EARNED EVERY FEATHER IN WHAT IS WORN BY ONLY A CHIEF. Please if ur (sic) not native, just stop."
Still another added: "Were you just looking for controversy using the headdress on the cover? It's incredibly disrespectful and blatantly ignorant. Both you and Pharrell should be ashamed of perpetuating this notion that First Nations/Native American cultural symbols are "fashion"."
Conversly, a supporter wrote: "Great shot!!! Great cheekbones Mr. Pharrell."
The singer has yet to comment on the controversy. He catapulted to popularity last fall after releasing the catchy number-one single "Happy."