Nathan Parrett Moves On From 'The Voice' With 'Bare' Revival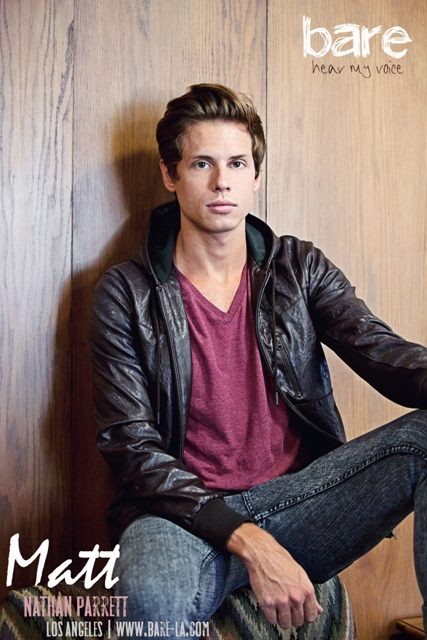 It's been two years since Nathan Parrett found a national audience on The Voice, and it's time to move on. At least, the talented singer-performer has, landing a leading role in the upcoming Los Angeles production of the rock musical Bare. Nathan recently checked in with BFTV to chat about the play, and candidly reflect on his time as part of a TV phenomenon.
"It's a really, really important show and we have an amazing cast," Nathan said of the Bare revival, which also includes Payson Lewis (The Sing-Off), Jonah Platt (The Office), Lindsay Pearce (Glee, The Glee Project),  Katie Stevens (MTV's upcoming Faking It), and a host of other talented young artists.
"The play is based in a Catholic boarding school setting, and there are two main guys that happen to be in love with each other. I happen to be sort of straight guy number one; I'm playing Matt [and] Matt essentially outs them. It's been a different experience, and I'm really excited about it."
The production marks the first time Bare has returned to Los Angeles since it originated there thirteen years ago. It's also particularly poignant as co-writer Damon Intrabartolo passed away on August 13. The Los Angeles run will be dedicated in his memory.
This isn't the first time Nathan has taken to the stage recently; he additionally participated in a limited engagement of Spring Awakening and was part of theatre well before he was on The Voice. Acting is as large a part of his life as music.
"I'm just a lover of the arts," he reflected. "And the feeling that I get from being on stage, doing these musical theater shows, it's right up there with being on stage singing my own material. It's just another art form that I really enjoy. And it's really how I started. I would never have had the guts to get up and sing alone if I hadn't been involved in theater."
You can check out the trailer for Bare below. The musical runs from September 6 to September 22.