Nathan Meunier On Why He's Writing a Book about Freelance Game Journalism
It's only been a few months since I started my own role as a video games freelancer writer at night, and often times, in the very early parts of the morning. So when I found out that Nathan Meunier, a freelance video game journalist himself, was planning to write a book on the process called Up Up Down Down Left Left WRITE, I was instantly intrigued.
He's funding the project through Kickstarter, the crowd-sourced funding platform known in the last few months for seeing millions going to an adventure game luminary and an Android-powered video game console.
Nathan is seeking $7,000 and he's just over $2,500 with more than a week to go. I spoke with him recently over email about the book project, video game journalism and more: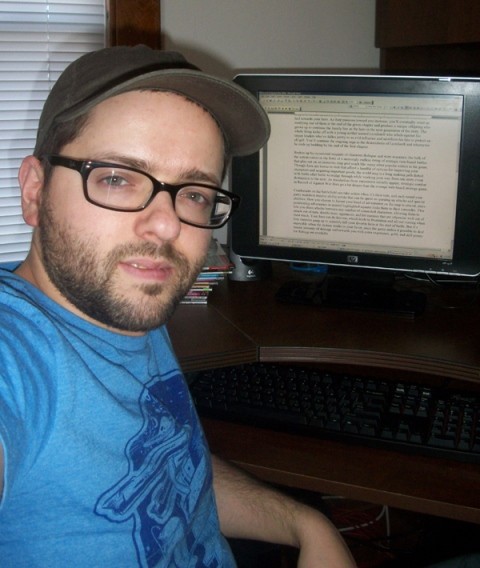 Nathan, I have to be totally honest with you. I wasn't familiar with you until I read about your Kickstarter on Wired's GeekDad. In case my readers are in the same boat, tell us about the kinds of games you like to write about, the kind of places you write for and just basically, where we can see all your great video game work?
I'm not surprised, and that's totally OK. Freelance game journalism is a great career, but it's not one that gets you a lot of accolades or notoriety outside of the gaming realm and writer circles. I've written for a lot of different print and online gaming publications over the years—twenty-five outlets in all so far. My work has appeared at Nintendo Power, IGN, GamesRadar, GameSpot, Official Xbox Magazine, EGM, Mac|Life, The Escapist, PC Gamer, GameSpy and a lot of other big outlets. I freelance steadily for about a dozen or so top-tier gaming publications at any given time.
As for what I prefer to cover… I tackle anything and everything in terms of game reviews, previews and features, but I do like to write about the indie gaming scene a lot. I really love the quirkier, more peculiar projects cranked out by many smaller teams with greater creative control, so I'm always keeping my ears to the ground for cool games to cover on that front.
How long have you been working in video game journalism as a freelancer? How did you get your start?
I've been writing professionally for about the past 10 years, with a little more than half of that time focused on freelancing in the gaming industry. I studied journalism in college and cut my teeth working as the staff lead reporter for a small weekly newspaper. I've always been a bit of a geek and huge gamer, so I began exploring freelancing on the side as a means to branch out, earn some extra money and write about a subject that's always been a favorite hobby. I didn't expect writing about games would become my full-time job. I'm so grateful it did, but it wasn't easy to get there.
It took a lot of time, energy, and effort to break-in with my first few steady paying gigs in the gaming world, and I had to learn a lot of things the hard way, but I eventually started to carve out a niche in the industry. I leveraged each new gig I earned to work my way into bigger and bigger publications and eventually I made the leap to freelancing full-time. It's a pretty awesome career.
What made you want to start to write Up Up Down Down Left WRITE in the first place?
Over the past few years I've received a ton of e-mails from aspiring writers and other folks seeking advice on how to break into freelancing in the game journalism realm and with questions about various aspects of the freelance life. I've always been willing to pass the goodwill along and offer advice and helpful intel whenever I can. I like to help people – and talk shop about writing – and I've always been appreciative when others have given me a hand when I needed it.
This eventually led me to start writing freelance game journalism-related advice articles and columns on my website, which were very well-received. I decided to compile these columns, re-write and expand on them, and turn it all into a detailed how-to book: Up Up Down Down Left WRITE - The Freelance Guide To Video Game Journalism.
I love reading how-to guides, particularly anything writing or game industry-related, and I would have been psyched to have had access to a book specifically geared towards breaking into the freelance game journalism life when I first started out. I'm essentially writing the book I wish I had in my hands back then.
Why did you approach Kickstarter instead of approaching a publisher?
I've always been a DIY kind of guy, and the more research I did about the mainstream book publishing industry the more it turned me off. I'm not expecting to make a ton of green on this project, but I do want to get it out there and in the hands of readers and aspiring game journalists who could use it.
These days, going the traditional publishing route still requires authors to carry the heavy weight in terms of promoting and drumming up sales, and they get a piss-poor cut of the profits for their time and energy. Why not do it yourself, get a more reasonable return on your investment of time and energy, and keep full creative control? Would I consider going the more traditional route for specific projects down the road? Probably, but for now I'd rather keep it real, keep it DIY and keep it interesting.
How are you getting the word out about your Kickstarter? How's the fundraising going so far?
I've spent a lot of time on Twitter, my blog and other social networking sites promoting the Kickstarter and the book project. That's gone pretty well so far and folks have been very receptive to it.
That said, it's been a real challenge scoring more traditional press coverage inside the game industry. I think that's in-part because this project, though gaming-related and relevant to a ton of readers across the board, isn't directly tied to a game. When you look at any video game campaign on Kickstarter, the goals are high and the amount they tend to raise is phenomenal. In contrast, scrabbling together a mere $7,000 to fund self-publishing a book feels like climbing a mountain. But that's cool. It's all good.
I did get a bit of press here or there. That's been helpful, and many of my freelance comrades and others in the gaming world have been very generous with their time helping to spread the word. I'm about to enter the home stretch and will be pushing really hard to get friends, fans, and interested folks on board - both as backers and vocal supporters. This Kickstarter needs more cowbell. It's going to take a lot of help to push things over the finish line, but I'm optimistic we'll get there.
What do you think about the rise in video game related projects on Kickstarter? Any ones you're a fan of?
It's utterly fascinating. Things have really blown up in the past year, particularly since Tim Schafer and the folks at Double Fine raised $3.3 million for their adventure game project. Since then, we've seen a lot of ambitious projects get funded. It's really encouraging that smaller studios are able to get out there and crowd source the funds they need to get their games completed and launched independently of major publishers. That's awesome. Then, of course, there's that crazy OUYA thing. Amazing. Raising $8.5 million to launching a console. Far out. It's an exciting time we live in, that's for sure.
As for specific projects, there are so many cool games out there seeking Kickstarter help. It's a bit dizzying. Planetary Annihilation looks pretty sexy, and I love 8-bit homage thing The Other Brothers has going on.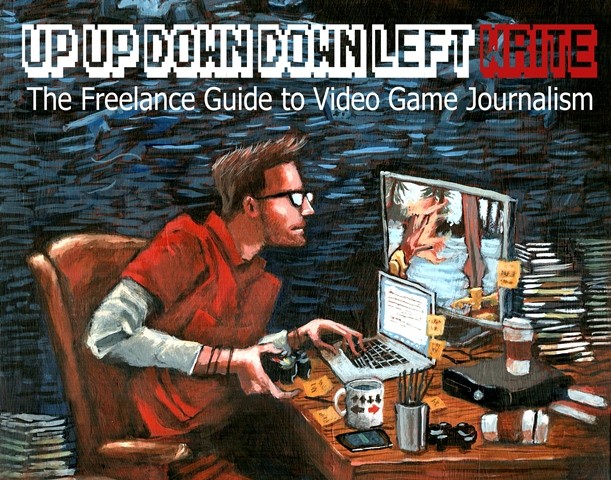 What (free) advice can you give to folks like me who are videogame freelancers, but also have day jobs, and have difficulties balancing the two? (Obviously, we'll want to read the book... but what would 3 tips be?)
Three quick tips for moonlighters who are juggling day jobs and freelancing in the gaming realm on the side? Gotcha: ready, set, GO!
1) Don't Quit Your Day Job (Yet) - One of the biggest mistakes a part-time freelancer can (and often does) make is to take the big leap across the ominous pit of doom towards a full-time freelancing career too soon. That gaping void is often lined with barbed spikes dripping with chupacabra nectar, and if you're not prepared when you take the leap, getting impaled is not a pleasant experience. Simply put: that's bad news. Don't suddenly quit your job and then expect to make it as a freelancer if you don't have any regular paying gigs. Wait until you've lined up enough steady paying work and are generating enough income from your freelancing. If you're making good bank and finding that you've got lots of potential work waiting in the wings, that's the time to start prepping. Even then, make sure you've got a solid plan before you leap.
2) Don't Forget The Business Side of Freelancing - Writing about video games and getting a paycheck? Yeah, that's super fun and all, but don't lose sight of the fact that freelancing, even part-time, is a legit business venture. You need to be tracking invoices, income and expenses, and keeping good records. Keeping a handle on any taxes you owe, and whether or not you make enough to have to pay quarterly estimated taxes to The Man, is also equally important. Sure, the life of a freelance game journalist is awesome fun, but you're also basically running your own writing business.
3) Take Deadlines Seriously - Part-timers have to juggle the craziness of working a day job AND cranking out copy when you've got down time. As such, it's all-too-easy to blow of prepping for a freelance writing assignment when you come home exhausted and in need of some serious R&R. Make time -- whether it's on weekends, early morning, evenings, whatever -- to ensure you're tackling freelance assignments in a timely manner. Don't miss a deadline, ever, if you can help it.
I've worked on the PR side of games the last four years or so, and now as a writer myself the last few months. I feel like I've only seen the number of freelance writers grow in the video game industry since I started. One, would you agree? And two, if you do, why do you think that is?
I'd say that's a very astute assessment. There a THRONGS of gamers out there that would kill to get paid to play games and write about them—much less make a living doing so. It's a very enticing career, and one that's surprisingly attainable if you know how to tackle it. The freelancing side of things is even more alluring, since you get to be own boss, work from home and basically run the show however you see fit. It has its challenge too, of course, but it's the only option for lots of aspiring writers who aren't able to relocate to the West Coast where all of the staff positions and gaming outlets are located. I live in rural Vermont, practically in the woods, yet I'm able to make a living doing this remotely. Who wouldn't want that?
Talk to me about the artwork for the book. The cover alone looks absolutely amazing. Who's working on it for you?
Thanks! All of the credit goes to Blake Wheeler, who crafts amazing paintings bursting with video games and pop-culture references. He's got some crazy skills. When I commissioned the cover, all I had was a loose idea of what I wanted. I chatted with him about it briefly, he put together some rad sketches and within a few days he had this amazing painting worked up. My mind was blown. Blake will be doing the back cover artwork for the book too. What's cool is that we also worked some of his custom artwork into the Kickstarter campaign. His paintings go for a few hundred bucks normally. At the super limited $150 backer reward tier – which includes signed print and digital copies of the book, recordings of my 8-bit chip music albums, and lots of other goodies – Blake will work up a custom 8x10 gaming-themed painting of your favorite video game character. It's definitely worth it for a one-of-a-kind piece, if you've got a little extra money to burn.
I noticed one of the rewards for paying $150 is you'll help, who I'm assuming is a PR person, with a pitch and help them target it to a paying outlet. (No guarantees it will be accepted of course.) That's an interesting reward to offer—do you find as a writer, like you're on dangerous ground mixing those two worlds? Or do you just see it as ensuring videogame journalists such as yourself just get less awful pitches?
Actually, that reward is geared towards helping writer folks who want to break into a new gaming outlet with a feature article pitch. :) I guess I'd have to get creative if someone in a PR capacity pledged at that tier.
While you're working on the book are you still writing about videogames? Will you go back to that full time after you finish the book?
I've been writing much of the book during small chunks of free time over the past year while juggling a full-time freelance workload. Finding the time and balancing the extra writing has been a challenge, but I've found writing the book is also a lot of fun and a nice change of pace from my day-to-day assignments. A small portion of the funding goal built into the Kickstarter campaign is meant to be a buffer so I can free up a little bit of my time to focus on completing the book. I'm about two-thirds of the way through writing it, and aside from covering lots of expenses of editing and publishing the book, successfully Kickstarting the project will let me devote the time I need to finish it.
Anything else you'd like to share?
I really appreciate every bit of support I can get—both from people willing to back the Kickstarter and those who feel inclined to help spread the word online and via word-of-mouth. I've built-in a lot of fun rewards and stretch goals into the Kickstarter campaign. If we can exceed the $7,000 goal and hit an ambitious $10,000 stretch goal, I'll write a second book on the subject that supplements the info in Up Up Down Down Left WRITE and give ALL backers a free digital copy. On Sept 3rd, the final week of the campaign, I'll also be unveiling one more HUGE gaming-related bonus reward for all backers… regardless of what level they contribute. That's going to be a real fun one.