NatGeo's 'Bid & Destroy' Takes Demolition & Treasure Hunting To A Whole New Level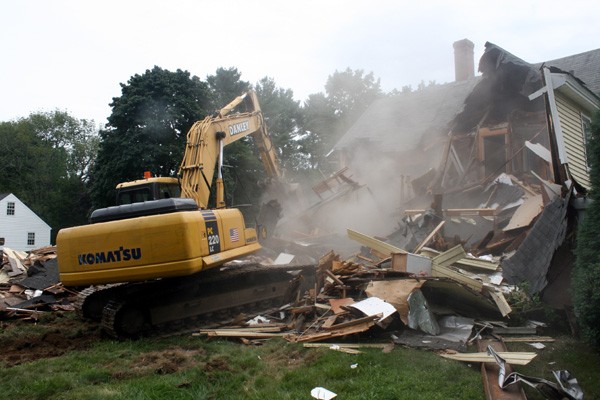 It's gotta be a lot of fun to demolish old buildings. Even better is locating hidden treasures inside them, some of which are worth a lot of money. That's exactly what the folks at Danley Demolition do in National Geographic's new show "Bid & Destroy."
Partners Lee Danley and Brian Gurry work with a crew of guys (and one tough woman) who get the job done, make some money, and have a kick-ass time in the process.
Starpulse had a chance to chat with Gurry, who said he absolutely loves his job. "The rules are different, the danger is different, and the hunt is different every day," he enthusiastically explained.
The first episode, airing Wednesday, Oct. 10, is titled "The Toilet Farm" because the bottom floor of an abandoned boarding house is littered with commodes. Usually that indicates all the good stuff in the building has already been picked over; however, Gurry winds up finding an antique silver salt and pepper set worth thousands of dollars.
What are some of Gurry's favorite finds? He's uncovered watches worth over $40,000, as well as a 1979 Ford Maverick with just 19,000 miles on it complete with the keys and title. His crew even found a small Piper plane that they keep outside their shop in New Hampshire.
Once the demolition contract is signed, the crew gets to keep every single thing they find. Most commonly the guys find guns, cash and jewelry. There was that one time they discovered a dead body...but it wasn't in the building they were taking down, just on the nearby property.
The series will appeal to men for the destruction aspect, while women will enjoy the camraderie between the crew and the treasure hunting. Besides Danley and Gurry, team players include Kip Walker, a grumpy heavy-machinery operator who can't be controlled, and Eric Gurry, the day laborer (and Brian's nephew).
"We're a team full of misfit toys," the Gurry told Starpulse. He added, "It's an adult playground."
But it's not all fun and games - demolition is serious business. The team has to accurately determine how to take down buildings without causing damage to nearby properties. "Every job is a little bit tougher than the last," Gurry explained. In the second episode of the show, the crew has to take down a steel smokestack without crashing it into the nearby buildings at a paper mill.
"Bid & Destroy" premieres on Wednesday, October 10, at 9:00 and 9:30 p.m. ET/PT with a double stack of episodes. Check out the Danley crew as they nearly cause an environmental disaster with an oil tank and discover some very interesting items - including a slot machine and an Arctic cat snowmobile with a snazzy leopard print seat.
Brian and his nephew Eric consult with an expert to find out the value of a flame thrower. Worth too little sell, Eric got to keep it.