Natalie Portman: The Best Actress Of Her Generation?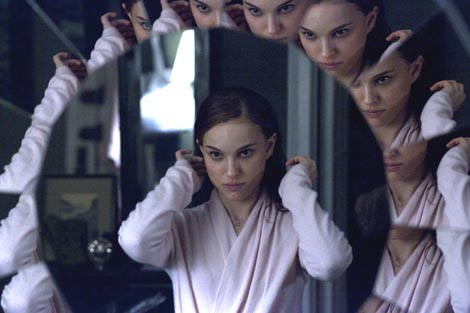 Since her intense breakout role in 1994's "The Professional," Natalie Portman has been one of the most respected and versatile actors working in Hollywood. Her filmography spans over 15 years but is as impressive and solid as Audrey Hepburn's or Meryl Streep's, two actresses to whom she has rightfully been compared.
It makes sense that Portman has become one of the most talented performers in Hollywood considering the amazing list of directors with whom she's worked:
      Luc Besson ("The Professional")
      Michael Mann ("Heat")
      Ted Demme ("Beautiful Girls")
      Woody Allen ("Everyone Says I Love You")
      George Lucas ("Star Wars: Episodes 1, 2 & 3")
      Anthony Minghella ("Cold Mountain")
      Mike Nichols ("Closer")
      Wes Anderson ("Hotel Chevalier/The Darjeeling Limited")
      Jim Sheridan ("Brothers")
      Darren Aronofsky ("Black Swan")
Not only does Portman choose challenging film roles, she also pursues stage roles, including "The Diary of Anne Frank" which ran on Broadway and Anton Chekov's "The Seagull" with Phillip Seymour Hoffman. She also earned a degree in psychology from Harvard University in between film roles.
So, the question must be asked: Is there anything Portman CAN'T do? It seems there isn't. The actress has appeared in both large Hollywood productions ("Star Wars," "Anywhere But Here") as well as smaller, independent films like Zach Braff's "Garden State" (which proved her wonderful comedic talents) and the vignette-style film "Paris, je t'aime." She also starred as herself in one of the most hilarious and talked about digital shorts of all time on "Saturday Night Live."
It is her latest film, Aronofsky's "Black Swan," however, that has put Portman back in the spotlight and has made her name synonymous with this year's Best Actress race. In the film, she plays a ballet dancer who is pushed to reach perfection by her mother, her director and herself. Mila Kunis plays the younger, more talented dancer who tries to take her place in a production of "Swan Lake." Fans of Aronofsky know that he typically explores very dark sides of the human psyche and the trailer gives a glimpse into the disturbing world he has created. Portman was nominated for a Best Supporting Actress Academy Award for her performance in "Closer," but lost to Cate Blanchett. This year might be Portman's year to win the accolade which she deserves.
Natalie Portman has three films being released in 2011, so she will most likely be at the megaplex at any given point in the year. She will appear in David Gordon Green's "Your Highness" with Danny McBride and James Franco which will give her another chance to show off her skills as a comedic actor. She will star with Ashton Kutcher in Ivan Reitman's "No Strings," a more formulaic Hollywood rom-com. Finally she will also star in Kenneth Branagh's "Thor," another possible franchise in the making.
She is also rumored to be in the running for Lois Lane in the new "Superman" reboot as well as the lead role in Alfonso Cuaron's next film, "Gravity." Without a break in sight, audiences are sure to get a lot more of Natalie Portman in the coming years.