Natalie Portman Shooting Documentary About Veganism?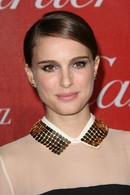 Actress Natalie Portman has reportedly signed on to shoot a documentary about the benefits of becoming a vegan.

The Black Swan star disappeared from the spotlight last summer after giving birth to her first child, but it appears she's set to make a return to the screen to speak out about her meat and dairy free diet.

According to author Jonathan Safran Foer, Portman approached him last summer about adapting his novel Eating Animals for a film project.

In a recent interview with French website Chap, he says, "She contacted me, she told me that she loved the book. I know her now. I will help her eventually but it will be her vision. She's only at the very beginning."

The actress previously credited the book with helping her to maintain a healthy lifestyle back in 2009.