Natalie Portman Named Free The Children Ambassador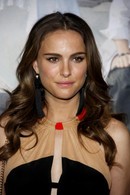 Natalie Portman has signed up as an ambassador for a charity helping youngsters in developing countries.

The Black Swan star, who became a mother for the first time last year, was unveiled as the latest spokesperson for Free the Children on Tuesday, and she is proud of her latest role.

She says, "As a mother and the organization's newest ambassador, I am grateful to Free the Children for giving me the opportunity to channel my passion and love of children into meaningful action that furthers the education and leadership of young women for years to come. I hope others join me in supporting this important cause."

Portman, who is also the face of the Dior cosmetics brand, has chosen one of the company's lipsticks to be sold in support of the charity, with proceeds going to fund scholarships for girls' secondary education in Kenya. The lipstick launches in the autumn.

The actress helped raise money for the organization last year by donating a dress she wore to a red carpet event to the cause, and also backed their The Power of a Girl fundraising initiative to improve educational facilities for young females.