'Nashville' Beauty Hayden Panettiere Chats Beauty, Charity, & Weight With Women's Health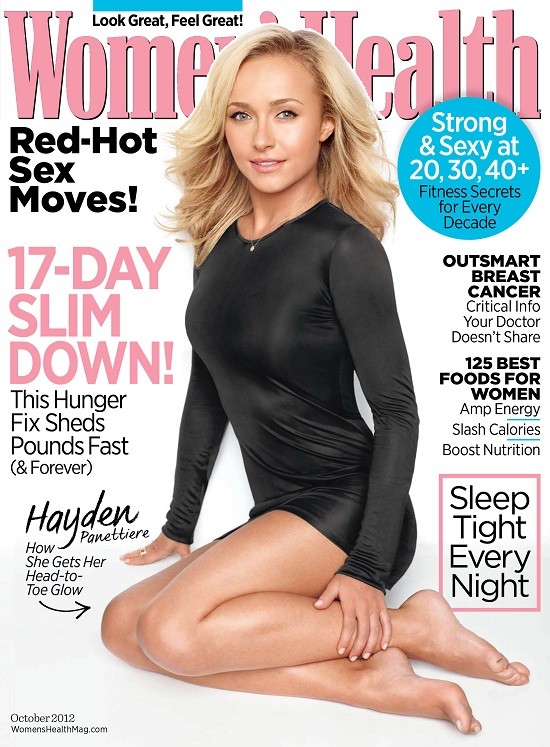 Hayden Panettiere, star of the upcoming TV show "Nashville", graces the October cover of Women's Health (on newsstands now!) and shares what makes her feel beautiful, inside and out - from how she keeps her skin radiating from head to toe, to her phenomenal set of pipes and her soft spot for giant sea creatures.
Hayden on having inner- and outer-beauty…
"People can tell when you're happy with being you and when you're not. It's only cheesy because it's true. As I've gotten older and grown into my body, I've started realizing that the way you carry yourself and that light coming out of your eyes are the most attractive things about you."
Hayden on why she does her own vocals for Nashville…
"I always said if I was ever going to do music again, I'd do country. There's honesty and truth in it."
Hayden on the camaraderie among country singers…
"L.A. is more cutthroat, but in Nashville they want you to do well. You see it with the stars. When they're performing, they're all cheering for each other."
Hayden on being physically criticized by the media at 16…
"I was mortified. It gave me such body dysmorphia for so long. But I remember reminding myself that beauty is an opinion, not a fact. And it has always made me feel better."
Hayden on getting over her fear of the ocean to swim with humpback whales…
"When you're there and you're in it, it's less intimidating. "
Hayden on how she amps up her beauty routine...
"You wouldn't wear baggy clothes on top and baggy on the bottom. If I do smoky eyes, I go for soft pink lips."
Hayden on her work with the Whaleman Foundation…
"I like to dedicate myself wholeheartedly to a cause so that I have more impact. My goal is to shed light on the beauty of the ocean and how important it is for our planet."
Hayden on how she creatively works out…
"My best friend, Amy, has an elevator phobia, so we always take the stairs. We will walk 12 flights. It's less embarrassing than getting into an elevator with her."
Hayden on detoxifying her body and mind with Bikram Yoga…
"It can be tough, but you're sweating out toxins and water weight."
Hayden on counting her blessings, not calories …
"I find out that when I'm overly concerned about what I eat, I stress out my body and put on weight."
You can read the full article and see her behind-the-scenes video here