Nas Opens Up About Concert Promoter's Kidnapping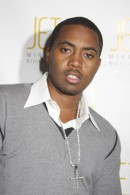 Nas has opened up about the recent kidnapping of his former concert promoter Patrick Allocco, insisting the U.S. businessman was ill-prepared to stage a gig in Angola and blamed the axed show on the rapper when it all went sour.

Nas and his opening act Jemiah Jai were due to perform in Angola at a New Year's Eve party hosted by Henrique Miguel and they were paid $315,000 for the heavily-promoted performance.

However, when both stars missed their flights from America and the show was scrapped, AllGood Entertainment CEO Allocco and his son were allegedly snatched at gunpoint, interrogated and held for several days.

They were eventually released once the I Can hitmaker returned the concert funds as ransom, but Nas has now broken his silence on the incident, insisting he was wrongly accused of being the bad guy.

The rapper tells MTV's RapFix Live, "He wanted me to come to Africa for New Year's, which to me I thought would be the best way to spend New Year's. You (Allocco) booked the flight, but no return flight. I didn't have a (work) visa. You (Allocco) didn't send money 'til after I was supposed to jump on the plane to another country."

"He was in some crazy danger in Africa so he threw me under the bus."