Naomi Watts Honored At This Year's Deauville American Film Festival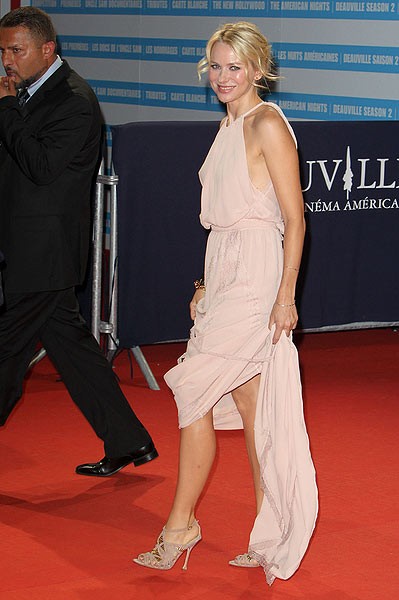 Naomi Watts looked gorgeous in a light pink Nina Ricci Resort 2012 gown Friday night at the 37th annual Deauville American Film Festival. The star was at the premiere of Crazy, Stupid, Love, which took place after a press conference and photocall honoring her for her contributions to American cinema.

Several of Naomi's films were also shown during the festival, including Fair Game, 21 Grams, Mulholland Drive, Eastern Promises and Funny Games. Peter Jackson's epic remake of King Kong.

Blake Edwards, Francis Ford Coppola, Shirley MacLaine, Danny Glover and screenwriter/director Roger Avary were also honored.

Next up for Naomi? She'll play J. Edgar Hoover's (Leonardo DiCaprio) longtime secretary Helen Gandy in J. Edgar, directed by Clint Eastwood. The film will focus on Hoover's days as director of the FBI and on his scandalous private life. J. Edgar opens on November 9th.

The Deauville American Film Festival began when two men, André Halimi and Lionel Chouchan, wanted to share their love of American cinema with others. They chose the seaside equestrian town of Deauville, France to hold the annual event, the first of which was held in 1975. It was years before it caught on and American stars started making their way to the event, but it has thrived for nearly 40 years.

The official site's description of the festival reads: "A space for films where dreams come to life, nurturing the coalescence of the collective imagination linked to the greatest cinematography in the world: yesterday's, today's and tomorrow's projected on the big screen; a whole industry and its stars and its legends. This is the America of the cinema: this is American Cinema."