Nancy Grace Settles Suicide Lawsuit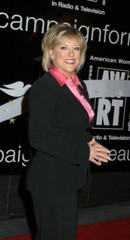 TV host Nancy Grace has ended a legal battle with the family of a woman who committed suicide a day after recording an appearance on her current affairs show.

Melinda Duckett took her own life in 2006 just 24 hours after she recorded a phone interview with Grace about the disappearance of her two-year-old son, Trenton.

Duckett's relatives filed suit, alleging Grace had inflicted "emotional distress" during the phone chat by asking a series of probing questions. The family has now dropped the lawsuit and cleared the star of any "intentional wrongdoing".

A statement reads, "After four years of litigation and extensive discovery, the parties now agree that Nancy Grace, the producers of her program and CNN engaged in no intentional wrongdoing..."

Grace has offered to set up a $200,000 trust fund dedicated to finding the missing child.