'Naked Gun' Star Leslie Nielsen Dies At 84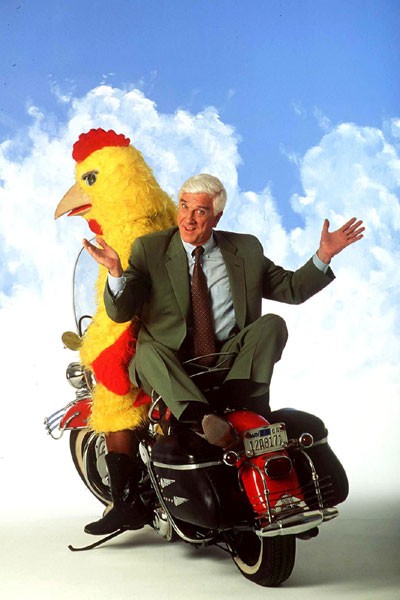 Leslie Nielsen - one of the most prolific actors in slapstick comedy - died on Sunday afternoon in a big building with patients, but that's not important right now, near his home in Florida.
John S. Kelly, the star's agent, released a statement saying he died from complications from pneumonia at 5:34 p.m. with his wife and friends at hand.
"We are saddened by the passing of beloved actor Leslie Nielsen, probably best remembered as Lt. Frank Drebin in 'The Naked Gun' series of pictures, but who enjoyed a more than 60-year career in motion pictures and television," he said.

Nielsen starred in over 100 films and got his start in dramatic films before becoming a household name after his part in the classic spoof movie Airplane! Shortly after that success, NBC cast him as Lt. Frank Drebin in the short-lived spoof show Police Squad, which made fun of such cop dramas as Dragnet. The network canceled it after only four episodes though, but a few years later the Frank Drebin character was given a new life in The Naked Gun, which was a huge success and spawned two sequels.

Nielsen also starred as a couple of captains in two cinematic classics: as the captain of a rescue ship in the groundbreaking Sci-Fi epic Forbidden Planet; and as the captain of a capsized cruise ship in The Poseidon Adventure.

Interestingly, early in his career he studied radio and worked as a DJ for a number of years despite being legally deaf.

Leslie Nielsen was born in Regina, Saskatchewan, Canada on February 11, 1926. He was married four times and had two daughters with his second wife.
Check out Nielsen's Filmography right here.