Nadia Returns To 'Lost': An Interview With Andrea Gabriel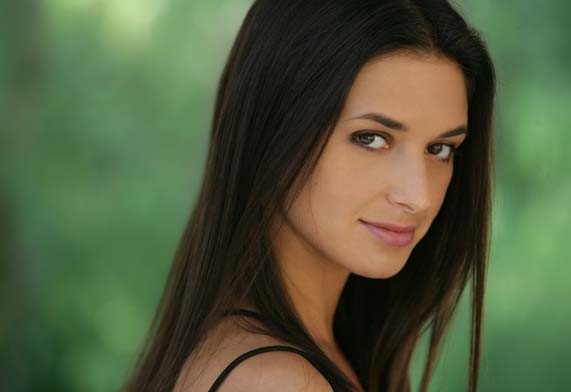 You probably know her as Nadia, the iron willed, tiny spitfire of an Iraqi woman who is Sayid's childhood friend and later his wife on ABC's popular drama, Lost. The actress behind this intricate character is Andrea Gabriel. Recently, Starpulse got the opportunity to chat with Andrea about how she got into acting, her role in the final season of Lost (despite Nadia's dramatic death in season six), and her plans for the future.
Andrea grew up in New York; the daughter of John and Sandy Gabriel; both seasoned soap opera actors. When asked if her parents supported her decision to try to make a living as an actress, Andrea made that familiar sigh-giggle combination sound that we've all made when asked to explain how our parents feel about our grownup decisions. Her father was apprehensive about her career choice, but once he realized that she was dedicated, he caved and got onboard with her decision. He advised his daughter to master her craft before becoming well known. That way what she would be well known for would be quality work. She accomplished this mastery on the stage. Before Lost, Andrea performed in several off-Broadway plays, most notably It's My Party and I'll Die If I Want To and David Rabe's The Dog Problem. Lost was Andrea's first major television gig and her performance on the show makes it is clear that she took her father's advice to heart. I asked Andrea if she prefers theatre or television acting. While she loves theatre, she prefers for her performances to be saved on film, rather than existing only in the memories of an audience. We get that.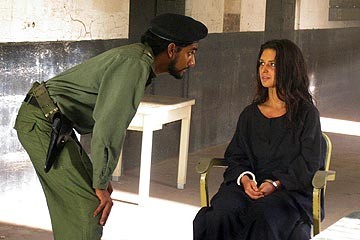 When we first meet Andrea as Nadia on Lost she is being held captive by a regime of the Iraqi army, a regime led by her childhood friend, (and one of the show's pivotal characters) Sayid Jarrah. In the episode Sayid is given an order to interrogate torture and, kill Nadia. Instantly, you are affected by the intensity of the love between the two characters reunited under such excruciating circumstances. It is not at all the performance you would expect from a newbie. And she does it all in Arabic, a language she neither speaks nor understands. We knew before the interview that Andrea is from New York, yet were taken aback by how American she sounded. She talked with a youthful enthusiasm about her life and career.
When asked whether or not she knew that she would be a part of every season of Lost when she was first hired for season one. She did not. In fact, she never knows anything about the show beyond her next episode. She compared it to dating a hot guy and hoping, but never being too sure if he will call. She's funny, right? We tried to do a little digging about her upcoming role in season six, but all we could get out of her is that so far she has shot two episodes, the first to air today. Assuming that since Nadia was hit by speeding car in season five's "The Incident" she will be filming as a part of what Losties are calling the "flash sideways" or the alternate timeline that is guiding the show's final season. Andrea would not confirm or deny this assumption. Damn! She did give us some behind the scenes info about how the car collision that causes her character's heartbreaking death was filmed. It turns out the just seconds long scene required three separate shots and involved flying Andrea above the car by a wire and harness. Who knew?
Lost has been a great stepping stone for Andrea who can now add a whole schlew of primetime and network television shows to her resume including Law and Order, House M.D. and JAG just to name a few. Andrea has other goals as well. She recently wrote a play, but ultimately has decided to adapt it into an independent film. Maybe so that will be able to revisit her work on film. It is called $now and Andrea describes it as a dark comedy. Andrea exudes both depth and lightness so this seems very fitting. We are excited to see what she comes up with.
There is more information about the film and Andrea on her website, www.AndreaGabriel.info. Her role in Lost is just phase one for this industry-bred New York girl who has big plans for her future in film. She's cool. Check her out.
Story by Rebecca Krause
Starpulse contributing writer