'MythBusters' Stars Grant Imahara, Kari Byron And Tory Belleci Leaving The Show As It Heads In A New Direction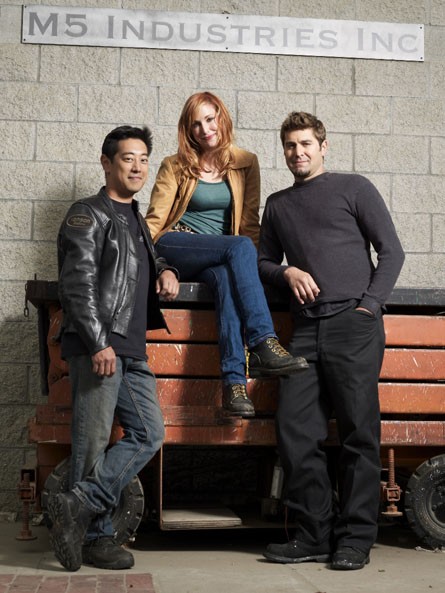 Hit Discovery channel series MythBusters is letting three of its five stars go as producers plan to take the show in "a new direction."

Adam Savage and Jamie Hyneman, the original two stars on the show, announced following Thursday night's episode that fellow MythBusters Grant Imahara, Kari Byron And Tory Belleci would be leaving the show.

Two of the three, Byron and Bellici, started appearing during the second season of the show as part of its "build team," setting up many of the experiments. A third member of the team, Scottie Chapman, left in the the third season and was replace by Imahara.

"Kari, Tory and Grant have been an incredibly important part of MythBusters for over a decade," the Discovery channel said in a statement. "From explosions to car crashes to even more explosions, this trio has helped shape MythBusters into the Emmy-nominated series it is today. Everyone at Discovery wants to thank them for their tireless work busting almost 1000 myths, and we wish them all the best on their future endeavors."

Following the 2014 season finale, about the inefficiency of boarding airplanes, the three stars tweeted their thanks to the fans, and Byron revealed that the show will change things up starting in 2015.

"After a decade of the Mythbusters, we are no longer with the show. Thank you to all the fans who have supported us," Byron wrote. "The show is taking a new direction. It was an amazing run. I learned so much about myself and the world. I love you all."

"It's been an amazing ride for 10 years! We couldn't have done it without you guys," tweeted Belleci. "You're the best fans anyone could wish for. Thank you."

Imahara wrote, "Thanks @MythBusters for allowing us to teach science in a whole new way. Also, explosions. Now, on to the next adventure!"

What's your favorite episode of "MythBusters"? Let us known in the comments below!