Mystery Brunette Films Justin Bieber Sleeping In Bed - Watch It!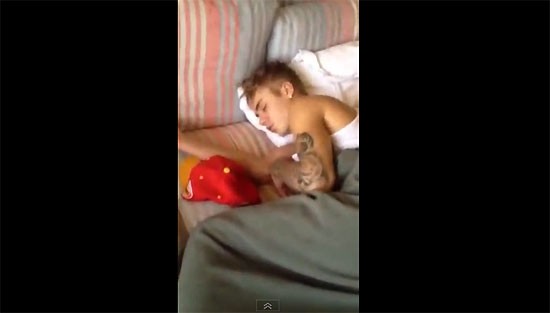 A young brunette woman filmed Justin Bieber sleeping on a huge sofa bed without his knowledge.
The singer is pictured on a striped couch without a shirt on and blankets pulled up to his shirtless chest. A red baseball cap is next to him.
The 15-second clip shows the singer dozing, and the female filmmaker also turns the camera towards herself, blows a kiss, smiles and waves.
It's speculated that the film was made during Bieber's current South American leg of his "Believe" world tour, probably in Brazil.
Friends of Bieber have since told TMZ the video took place at a home the singer was renting during his tour, and he fell asleep following an after-party. The footage was shot by a partygoer, not a prostitute.
On Saturday, the singer, 19, stormed off stage in Sao Paulo after a concertgoer hit him in the head with a water bottle. The following night, a topless male fan ambushed him at a show in Rio de Janeiro.
Prior to leaving town, he reportedly sprayed a hotel with graffiti in Rio, and police want to question him about the incident.