There's no group of people that I love seeing on the small screen than the police. Having been there and done that, I have a certain affection for good portrayals of the men and women in law enforcement. Now that we've recently celebrated Police Week, here's my tribute to the TV cops (note: not federal agents or anything else - just cops!) who've left impressions on me over the years.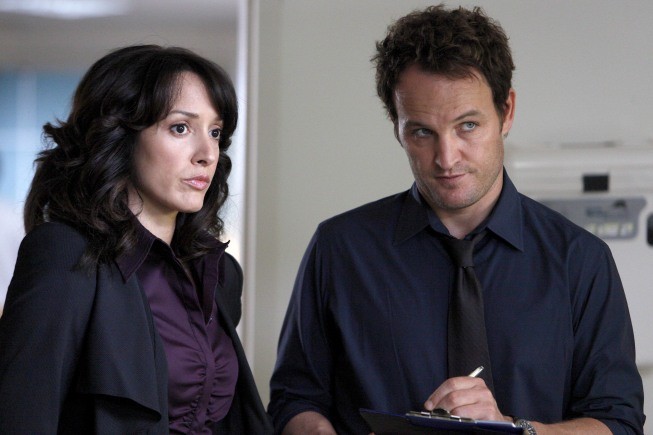 Sergeant Joe Friday (Jack Webb) and Detective Ben Gannon (Harry Morgan), NBC's Dragnet
My earliest memories of TV cops have to do with one of the most storied franchises in the genre. Thanks to Nick at Nite (later TV Land), I spent many, many nights in my childhood sitting on the couch with my father, watching reruns of the 1967-1970 remake. I later started listening to the original radio episodes, and as a result of all those evenings, Dragnet will forever have a soft spot in my heart.
There's something about the straightforward, no-frills approach of experienced LAPD sergeant Friday and the deadpan humor of his partner Gannon that still holds up today. It takes me back to that other era and really gives me a feel for what Los Angeles was like well before my time, at least through Jack Webb's eyes. As a writer, it's refreshingly simple - no gimmicks, no games, no stunt casting. And as easy as it is to get caught up in so many other factors in TV today, there's something nice about that.
It's true that compared to the police series of later years, Dragnet looks almost elementary, but it's also true that we probably wouldn't have many of the shows I'm about to gush over without it. And Joe Friday's opening narration, as well as that now-classic theme tune, are permanently burned into my memory.
Sergeant Frank Drebin (Leslie Nielsen), ABC's Police Squad!
Police Squad! will always be one of my favorite series of all time, because nothing has ever made me laugh quite as much as the cases and shenanigans of Frank Drebin. The Naked Gun movies that followed this were good, but Police Squad! was and remains awesome beyond words.
Full of all sorts of mischief -  like sight gags, wordplay, and episode titles that never matched what the announcer was saying they were - this parody series was hilarious but it was also smart funny, not playing down to an audience or having to mine off-color content for laughs. (Current TV comedy writers, take note. It can be done.) At the heart of the show was the legendary Nielsen, who played everything with a straight face and perfect comic timing, no matter how absurd it got.
...and it got plenty absurd. There's a huge list of great Police Squad! gags and moments, but some of my favorites included Drebin narrating about driving "back to the office" while going, naturally, in reverse; him engaging in a pointless shootout with an opponent literally feet away from him; and how every episode ended with an apparent freeze-frame...that wasn't really, as the actors were just standing there not moving while everything continued to happen around them. Every episode had me rolling. I know Leslie Nielsen will be remembered for many, many great comedic performances, but to me, he'll always be Frank Drebin.
Detective Lennie Briscoe (Jerry Orbach), NBC's Law & Order
During and after Dragnet, the next big staple of my crime drama addiction was Law & Order. There were plenty of great cops through the show's two decades, but none better than Lennie Briscoe, played by the very much missed Jerry Orbach. Orbach is one of the great figures in entertainment in my book; whenever I saw him, I knew he was going to give a wonderful performance, but not only that, he was by all accounts a gentleman off-screen.
The wily veteran Briscoe was not necessarily the star of the show - in fact, Orbach was content to share if not concede the spotlight with his younger partners, all of whom he had chemistry with despite how different not only the characters but the actors were - but my attention always went to him anyway. Lennie was the show's comic presence, his wisecracking a welcome pop as the show moved through its procedural paces. Underneath that easy smile, though, was a sincerity and dedication that proved he was a mainstay on the streets of New York for a reason. Some of Law & Order's most heartbreaking material dealt with the murder of Briscoe's daughter Cathy by a drug dealer, not to mention that he's in the car with ADA Claire Kincaid when she is killed by a drunk driver in one of the series' most important episodes, "Aftershock."
Characters came and went with regularity throughout Law & Order's twenty-year run, but there was something comforting about the fact that for twelve of those twenty seasons, I knew Briscoe would be there. Rest in peace, Mr. Orbach - for you will always be deeply missed by anyone who ever got to see just how great you were.
Detectives Frank Pembleton (Andre Braugher) and Tim Bayliss (Kyle Secor), NBC's Homicide: Life on the Street
Homicide: Life on the Street was my favorite cop series during its run and remains one of my favorite series of all time - and while I loved many of the characters on the series, the chief reason why it captivated me was the partnership between Pembleton and Bayliss. I'm not sure that there will ever be a detective on television that will compare with Braugher's Emmy-winning performance as the hard-charging Pembleton; he possessed a command that very few actors have ever had and could make brilliance out of the smallest moments. I feel comfortable saying that if his great interrogation scenes didn't start modern TV's trend in making a bigger deal out of them, it certainly influenced it.
The complicated, sometimes contentious relationship between Frank and the more conflicted Bayliss was so layered and rich that watching it unfold was a treat unto itself. I loved watching Tim evolve from the fresh-faced rookie to the veteran cop, and it pained me to see him crumble in later seasons. I tend to pretend the show's final, Pembleton-less season didn't exist, and I'm not really sure how I feel about Homicide: The Movie, but I have to admit that the latter has a fantastic scene between the now ex-partners where Tim confesses to Frank that he murdered a known serial killer, and Frank refuses to absolve him. It's a microcosm of everything that worked and didn't work about their partnership, and both actors hit it out of the park.
When I think about my favorite police series, I always start with Homicide, and when I think of Homicide, I always start with Pembleton and Bayliss.
Lieutenant Mike Stone (Karl Malden) and Assistant Inspector Steve Keller (Michael Douglas), ABC's The Streets of San Francisco
The Streets of San Francisco is another of my favorite classic TV shows, largely because of the partnership between the two main characters. The already well established Malden and a pre-breakout Douglas just work so well together. They rib each other and it's actually funny, not just there for the sake of doing it; you can really see their closeness, and Mike becomes practically a second father to Steve. Much like Dragnet, there's nothing convoluted or over-the-top about the show; it's just easy to follow, clean whodunits with a pair of entertaining heroes at the center. I'm still disappointed that only the first two seasons have been released on DVD, but I'll take what I can get.
Like Homicide, at least in my opinion, the quality of the show declined as soon as one of the key characters exited; no offense to Battlestar Galactica's Richard Hatch, but he was no replacement for Douglas, who left to pursue his career as one of Hollywood's biggest film stars. I'm also not that fond of the follow-up TV-movie, which sees Mike investigating Steve's murder (possibly because Douglas was unavailable to reprise his role), because I like to keep my fond memories of Mike and Steve as a team, out there busting the bad guys.
Officers Maurice "Bosco" Boscorelli (Jason Wiles), Faith Yokas (Molly Price), Tyrone "Ty" Davis Jr. (Coby Bell), and John "Sully" Sullivan, NBC's Third Watch
I really can't separate any of the cops from NBC's vastly underrated Third Watch; both the partnerships are so great, and even more remarkable because all four actors stayed for the show's entire run, creating a core group that helped to make the series so watchable. The hotheaded yet heroic Bosco (why Jason Wiles hasn't had a more successful career baffles me) was balanced out so well by patient wife and mother Faith; they had vastly different lives, but they always had each other, and there was nothing they wouldn't do for each other. It was a kind of loyalty that seems like it doesn't exist in the real world anymore.
On the flip side, there was an equally interesting story going on with rookie Ty and his new partner Sully - they had a history together. Sully had been partners with Ty's father, and as such, knew all of the elder Davis's painful secrets, much to the shock and consternation of his son. Initially resistant to the idea of working with the kid, Sully grew to accept him, help shape him, and most importantly, help him come to terms with the realities of both his job and his father's past. Their initial discord paved the way for a bond that saw them become practically like family.
These four incredibly nuanced characters were played by four fantastic actors, and how none of them have become bigger names after that I have no idea. They certainly deserved more attention. As a writer, I know I would kill to have such a great core group of talent that I could build a show around for not just a year or two, but its entire run. I don't think I've seen any other ensemble that was that good for that long.
Detectives Jimmy McCarron (Desmond Harrington) and Frank Smith (Ethan Embry), ABC's L.A. Dragnet
I love Desmond Harrington as Miami cop Joey Quinn on Dexter, but he's always going to be the hot-tempered Jimmy McCarron on ABC's remake of Dragnet to me. On paper, the character was as stereotypical as they come: a young, handsome detective with a very short fuse. In the entire series, he was so ill defined that he got only three facts of backstory (I counted) and even wore the same outfit quite a few times over. What made him memorable was Harrington's performance; when he was called upon to fly off the rails, he really did, and there was always much more going on behind his eyes than was ever written on the page. In a cast made up of basically interchangeable parts, McCarron was the one character who stood out.
There wouldn't have been a McCarron, though, if there hadn't been Frank Smith. In the remake's first season, when it was called Dragnet and actually respected the title, Ethan Embry played the young partner to Joe Friday (a surprisingly great Ed O'Neill). He was pretty memorable; the writers had a bit of fun playing the contrast between the two characters, with Frank's technological savvy and youth coming in handy to show up or confound his older partner on a few occasions. Beyond that, though, Frank wore his heart on his sleeve and paid for it (such as in my favorite episode, "The Cutting of the Swath," where he finds a young murder victim disposed of in a cardboard box). He might look cute, and he wasn't seasoned yet, but Frank was a darn good cop and the show never let us forget that.
It's a shame - and a travesty - that what was actually a pretty good remake was obliterated when, after the first season, Embry was written out along with actress Lindsay Crouse, O'Neill was promoted, and the focus shifted to a bunch of younger and not at all well fleshed out characters. Still, I'll always love the first season, and I admit that I can't quite write off season two, because at least it gave me the character of McCarron.
Officers Marlin Boulet (Anthony Anderson) and Trevor Cobb (Cole Hauser), FOX's K-Ville
I know I might be in the minority here, but I enjoyed FOX's series about post-Hurricane Katrina policing in New Orleans, largely because of the two main characters. As played by Anderson (who'd subsequently get the gig replacing Jesse L. Martin on Law & Order after this show), Boulet was a hard-working family man strongly devoted to his city. He was tested often by enigmatic new partner Trevor Cobb, who turned out to have a big secret - he was actually a criminal, having escaped from prison during the hurricane.
These vastly different backgrounds made the partnership between Boulet and Cobb intriguing to watch, as one would see something the other wouldn't, or there would be a disagreement thanks to their differing points of view. Both of them also had their own individual challenges, although the show managed to make a fumble of Trevor's when they burdened him with not only feelings for his cellmate's girlfriend, but the return of a previous love interest and a meaningless fling with a fire marshal...all within the space of a few episodes. Regardless of that, both characters had more than enough to make them watchable. Years later, I still have the complete series sitting on my DVR.
Detective Sergeants Ronnie Brooks (Bradley Walsh) and Matt Devlin (Jamie Bamber), ITV/BBC America's Law & Order: UK
For all the fine detective pairings on the American Law & Order, the British version got it right straight off when it introduced us to wily veteran Ronnie Brooks and his younger, more idealistic partner Matt Devlin. The chemistry between Bradley Walsh and Jamie Bamber was first-rate, and both actors were undeterred by the Law & Order franchise's minimal character development and made something of their roles.
What I really loved about their partnership was that we actually saw it change and evolve over the course of four series. There were times the two were upset with each other and we saw it strained, and it wasn't just a superficial argument; they had legitimate disagreements that lasted for more than a few minutes. We also saw them there for each other when they were needed most. Yet most infamously, even though they were close, Matt wouldn't lie just to back up Ronnie's version of events in one particular episode. Their friendship and professional partnership didn't come at the expense of their integrity, and it didn't always work. It was remarkably human.

Superintendent Teresa Colvin (Jennifer Beals) and Detectives Jarek Wysocki (Jason Clarke) and Caleb Evers (Matt Lauria), FOX's The Chicago Code
I love every character on The Chicago Code, but if you forced me to choose, Teresa, Jarek and Caleb would be the heart of the show for me. I appreciated the contrasting relationships that Jarek has with ex-partner Teresa and new partner Caleb; it helps give just that little bit of extra insight into what makes him tick. Between Jarek and Teresa, you could really feel the sense that they went back years and had that history, even though we hadn't known them very long. And between Jarek and Caleb, you could see the bond beginning to form, the relationship trying to gel, even if it wasn't easy. By the season finale, we saw that they'd finally found level ground with one another.
All three characters were played to perfection by three excellent actors; each of them were so well-developed and so engaging. Through Teresa, we got to see the administrative and political struggles of a police administrator, instead of just the boss figure who sits behind a desk or wanders by while the show's real leads go out and save the day. She wasn't just a leader; she was still a competent cop. In a sense, as the new guy, Caleb was the audience's window into the story, and we got to grow as he did, learn from the questions he asked and mistakes he made. And I could go on for a long time about Jarek, who's going to go down as one of my favorite TV characters in a long time. We heard from the setup of the show and from other characters about how great a cop he was, and I dismissed it all as hype that normally goes unfulfilled. But unlike many, many characters before him, he proved himself worthy of all that praise - and quickly too. It was easy to believe that he was the larger than life figure that he'd been written to be.
Thanks to the characters listed above and more, I've had some truly enjoyable times taking in the fictional exploits of the police. Some have even brought back fond memories of my own experiences in the field, or reminded me of friends who still are on the force - which only makes me more appreciative of having TV cops who pass muster. Who are some of your favorite TV police? What makes you enjoy their work? Let me hear from you about who you'd want on your side.