My Crazy Girlfriend Q&A: Music, Little Mix and 'Crazy Stupid Love'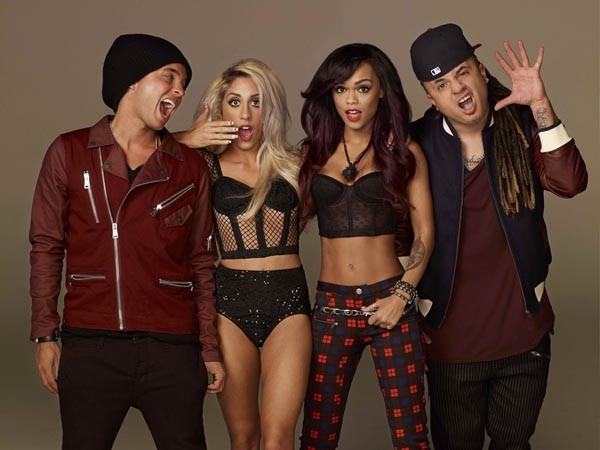 My Crazy Girlfriend may be a new pop group but they are already headed for chart domination. Based in Los Angeles, Cosmo, Myah Marie, Justyn and Bennett (who happen to be twin brothers) are signed to Capitol Records.
The band released their debut single, "Crazy Stupid Love", last month and be warned: the song is crazy addictive. Their unique sound is indescribable but you can think of it as My Crazy Girlfriend with a hint of No Doubt and the Black Eyed Peas.
Starpulse had the chance to talk to this energetic foursome about My Crazy Girlfriend, their upcoming tour with Little Mix and comparisons to the Black Eyed Peas. Read below to learn more about these rising stars!
The four of you have known each other for a while prior to the formation of My Crazy Girlfriend. What finally triggered the formation of the group?
Cosmo: Yes! Collectively, we've known each other for about ten years now. We had all been working on various projects throughout the years that included solo projects, writing and producing for other artists. We even featured on each other's songs but never thought of doing a group together. A time came a while back when coincidentally, we kind of lost everything at the same time. We lost jobs, there was an eviction, and we leaned on each other to get through that hard time. It was then that we were like, "Let's try something different!" We recorded one song and threw it online and it had such a crazy reaction, bigger than anything we had done individually and we really felt we had something. We continued to record songs and caught the attention of David "DQ" Quinones and Richard Vission, who helped us develop our sound, and soon after, signed to Capitol Records!
How did the name My Crazy Girlfriend come about?
Justyn: Our name actually came from a song title we came up with. When we first formed as a band, we didn't have a name. We had ridiculous ideas like "Dirty Laundry" and other names. While in the studio we were starting a new song and wanted to write and record a song called "My Crazy Girlfriend" about a loving yet dysfunctional relationship. We thought it was something new, unique, and everyone will always remember their crazy girlfriend. [laughs]
How do you feel about the comparisons between My Crazy Girlfriend and the Black Eyed Peas?
Cosmo: We love The Black Eyed Peas, they are one of the biggest groups in the world and being compared to any one that successful is truly a compliment to us. We absolutely want to be the first My Crazy Girlfriend but if I was to give a reason for the comparison other than there being 4 people, it's that the Black Eyed Peas write and produce their songs! That's something we admire about them, and pride ourselves in as well.
You'll be going on tour with Little Mix later this year. Which city on the tour are you most looking forward to visiting?
Myah Marie: Yes! We are all so excited about every single city! We are thrilled to be going on tour and joining an awesome group. The one city I'm personally the most stoked about is Toronto though, because a ton of my family is in Canada. It would be super cool to invite them out for the show!
Describe each member of the group with one word.
Myah Marie: Justyn: "cool"; Cosmo: "sexy"; Myah: "weird"; Bennett: "selfie".
What is your favorite song on the Crazy Stupid Love EP and why?
Bennett: My favorite song on Crazy Stupid Love EP is the title track "Crazy Stupid Love". The song is upbeat and feel-good. I still remember the night I started the track in my bedroom studio and it's wild how far it has got us.
If you could play any music festival in the world, which would it be?
Justyn: Being from L.A., it's of course a huge dream of ours to one day do Coachella. The iHeart Music Festival would be amazing as well! We had a chance to go to Vegas and watch it last year and we were so inspired.
Where do you see My Crazy Girlfriend five years down the road?
Justyn: In five years, I definitely see us still doing the group and conquering the world as well as continuing to write and produce for other artists.
What are three reasons why people should start listening to My Crazy Girlfriend?
Bennett: People should start listening to My Crazy Girlfriend because we make positive and fun music, we're honest, and what you see is what you get.
---
If you have some questions of your own for the band, don't hold them in! My Crazy Girlfriend will be doing an 'Ask Us Anything' Question and Answer session on Starpulse.com's Facebook page on Friday, May. 9 at 4:30pm PST (7:30pm ET) and we would love for you to join. Come with your best questions to ask one of the hottest upcoming pop groups in the U.S.!
Stay connected with My Crazy Girlfriend on Facebook, Twitter, YouTube and also be sure to check out their official website!