My Chemical Romance talk 'Danger Days' on Fuse TV's 'A Different Spin'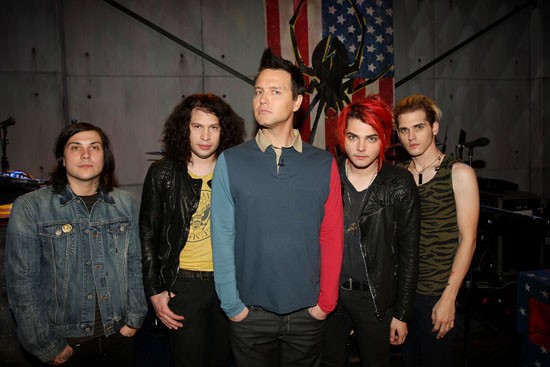 My Chemical Romance are in New York this week to promote the new release of their fourth LP, Danger Days: The True Lives of the Fabulous Killjoys. They stopped by Fuse TV's A Different Spin to talk about the making of the album with Blink-182's Mark Hoppus. The band look decidedly more punk rock this go round, highlighted by frontman Gerard Way's return to his old, long-haired self (in fire red). Officially, MCR are down to four members with the recent departure of long-time drummer Bob Bryar, but with three of the members now sporting wedding bands, the band seem happier and more relaxed than ever.
"The Black Parade tour got hard," said Way on their last outing. "The shows got bigger and cleaner as we went along, which was good. We put a lot of darkness into that album, but then we got a lot back. ... [with Danger Days] There's definitely more color. I think it's amazing that we made it ten years as a band with no color."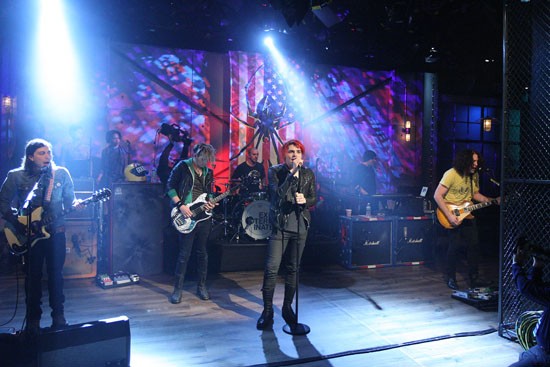 Before recording Danger Days, the band had actually completed another album, but scrapped it as they felt it lacked an ingredient that kept it from feeling special and worthy of release. Guitarist Frank Iero explained, "I think we put ourselves in a box. We went back into the studio and recorded four more before we realized that we were on the right track." Lead guitarist Ray Toro added that a few songs from the previous effort were reintroduced into the fold and drastically changed to fit more with the feel and the style of the new songs they'd created. The result is an album that is more vibrant (and less dark, though "lighter" would be out of context) than their previous works. The band also want art and story to be heavily involved in the album's evolution, and are also in preliminary talks to make the Killjoy characters from the music videos actual action figures.
MCR performed "Raw" and "Sing" from the album before closing with their rocker of a first single, "Na Na Na".
You can catch them on Fuse TV's A Different Spin Thursday, December 2nd at 7pm/6pm and 11pm/10pm CST.
Check out the "Na Na Na" music video, directed by Gerard Way: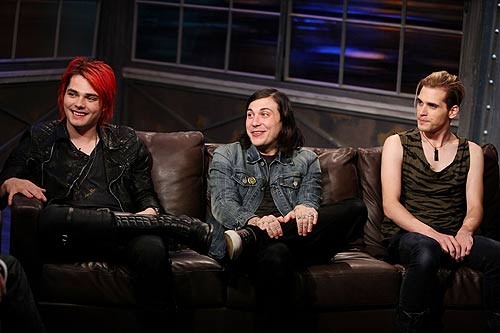 Click for more great MCR pictures: