My American Heart Readies 'Hiding Inside The Horrible Weather' For June 26 Release

Age doesn't necessarily denote musical prowess, but for
My American Heart
, a band who wrote their debut when most of the members were merely 16, making great music has only been augmented by three years of touring, practice and acquired knowledge. The San Diego fivesome's dynamic, innovative second record reverberates with a sense of newfound wisdom and the sort of skill that comes only from that hard-earned experience, a reminder of how shockingly young the makers of the record actually are. The strikingly varied disc, metaphorically entitled
Hiding Inside the Horrible Weather
to denote the beauty that inherently lies in all things, soars from hooky, driving rock ("The Shake (Awful Feeling)" and "Boys! Grab Your Guns") to introspective acoustic ballad ("Tired and Uninspired") to expansive searches that reveal a whole new side of My American Heart ("Dangerous" and "Fantasy"). Soliman's lyrics are noticeably more refined, spinning with clever turns of phrase and poetically-inclined verses- yet another gleaming facet of evident growth on the record.
Hiding Inside the Horrible Weather
is the result of six months of heavy writing time, although some of the album's tracks come from nearly a year before it was recorded. Following the band's beloved debut, The
Meaning in Makeup
, which the group feels was slightly rushed, for this record My American Heart had time to really craft what they consider to be an album that represents how far they have come. "We actually took our time to write this record," says Soliman. "It was a lot of fun creating this record and expressing ourselves and actually growing as musicians together. Just figuring out what we're capable of. It was definitely a huge step up from the last record."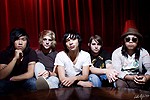 Armed with new guitarist Matthew VanGasbeck, formerly of Downtown Singapore, who joined the writing process in November, My American Heart entered the studio on February 4th. After whittling down a long list of possible producers, the group chose James Paul Wisner, the producer behind bands like
Underoath
,
The Academy Is
and
Dashboard Confessional
, who Soliman calls the "perfect fit for this record." In Wisner's St. Cloud, FL Studio, just south of Orlando, the quintet dove headfirst into an encouraging, creative environment that helped them pen the next tracks to the record. "He helped us really explore ideas and he really listened to the songs," Barrera notes of the experience. "He was huge part of the record."
My American Heart has certainly not eschewed their engaging pop sensibilities, but even former disbelievers won't be able to deny the range and strength of the songwriting on Hiding Inside the Horrible Weather or the memorability of the tracks, which the band hopes will be drawn to any listener who happens to hear them. As far as huge steps up go, this is a massive one, and the significance of that is not lost on My American Heart. "I just want people to really open their minds to this and give some consideration to how much we've grown since the last record," Soliman says. "We really learned that we are better than what we thought we could be."
The band is currently touring on the Vans Warped Tour and will also be featured on the Warped Tour Compilation CD.
Check 'em out:
-
Boys Grab Your Guns
-
Tired and Unispired
-
The Shake (Awful Feeling)
Also, check out the video for "The Shake (Awful Feeling)":
Windows
|
Quicktime Hi
|
Quicktime Med
|
Quicktime Lo
(Streaming audio and/or video links may expire without notice)