Hockey, the sport of kings, or whatever it is they have in Canada, Pharaoh perhaps? The sport that makes professional wrestling look like a rose filled romp through Holland has been immortalized several times on the big screen. For every man who has sat through Disney's
Ice Princess
hoping for a bit of checking on the ice, Starpulse presents our list of must-see hockey movies of all time. Some are good, some are bad, all deserve a place next to your goalie mask.
The Cutting Edge (1992)
Oh
D. B. Sweeney
, if only you didn't suffer that eye-injury. The Cutting Edge could have been about a hockey player overcoming adversity to win in the Olympic Games. Instead we got ourselves a romantic film about Sweeney's acceptance of failure and move to figure skating. Football players become coaches when they retire and Hockey players become Olympic figure skaters who fall in love with their partners. Not so much a hockey movie but a cautionary tale of what horrors could befall the sport. We kid the figure skaters; some of our best friends are figure skaters.
The Rocket: The Maurice Richard Story (2005)
Many Americans don't know this, but Canada actually produces several films each year, the country isn't just a less expensive setting for American television shows. The Maurice Richard story was based on the life of one of the sport's most talented players and is considered one of the most accurate representations of hockey. Track down a copy of this award winning film if you have any interest in the history of the sport, or for a taste of northern culture.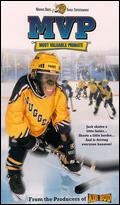 MVP: Most Valuable Primate (2000)
Why would anyone want to watch humans play hockey when monkeys are so much better at it? Gather a few friends together and watch the film along with its two sequels for a real taste of the sports primal nature. The first one is clearly the best of the trilogy, with a chimp befriending
Kevin Zegers
of
Transamerica
fame and his deaf sister, because hokey is how the world overcomes animal prejudice, and deafness. Hockey is a metaphor, and this movie proves the depth of the sport both on and off the ice.
Mystery, Alaska (1999)
Russell Crowe
leads a team of Alaskan hockey players against the New York Rangers. Do we have all our hockey movie clichés? Let's see, underdog team, check. Players working together against a greater threat, check. Better team happens to be slightly evil, check. Gruff coach/lead player, check. A movie that skates through familiar material is saved by some great scenes on the ice, and enough melodrama off to fill a season of
Friday Night Lights
.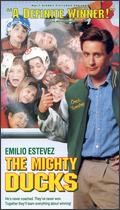 The Mighty Ducks (1992)
Mr. Gordon Bombay, drunk driving lawyer, have you no shame. Thankfully a judge forces our hero to coach a group of hockey playing misfits. What follows is the movie that sold a thousand pairs of hockey skates, and drove up insurance rates of all the kids who were taken to the emergency room shortly after. The movie became a trilogy, but unlike the MVP series, each movie is supremely watchable not only because of the hockey, but because the characters are such lovable little rapscallions.
Joshua Jackson
made a name for himself before his Dawson's Creek cohorts, looking back perhaps he should start working on D4.

Miracle (2004)
The Soviet Union is an evil country, or at least that is what films have attempted to teach Americans over the years. Miracle takes the cold war to the Olympics where the American team was a shoe in to lose against the Soviets. Kurt Russell is on the job though and leads his team to victory; one might say it was a miracle. A bit of trivia about the film,
CSI New York's
Eddie Cahill
was the only traditional actor cast as a teammate; the rest of the team was populated with actual players, lending a bit more credibility to those montages.
Slap Shot (1977)
Paul Newman
stars in the greatest hockey film of all time. Harkening back to a time when the sport was even more violent than today, the Charlestown Chiefs learn that popularity can be obtained through some less than ethical means. Lies are told, fights are had, and some on ice-stripping occur during the film, leading up to a climax that leaves viewers wondering if everything was a lie. Check out Bbay for action figures based on the classic film but avoid the
Stephen Baldwin
headlined sequel, he doesn't need any more encouragement.
Story by
Dan Chruscinski
Starpulse contributing writer