Must-Have Disney Pixar Classics 'Finding Nemo' And 'Up' Arrive On Blu-ray 3D Dec. 4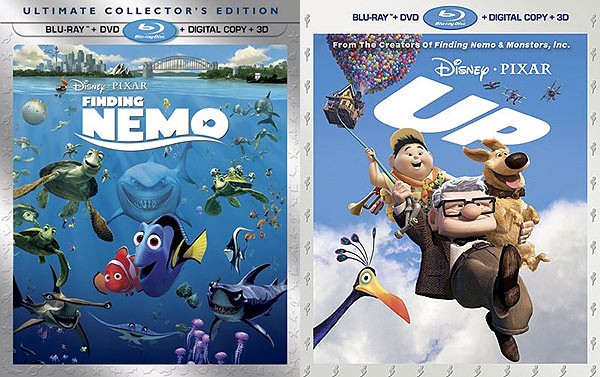 Just in time for the holidays Disney/Pixar is releasing not one, but two of its classic films in all-new five-disc Blu-ray 3D combo packs on Tuesday, December 4 -- and they're both absolute necessities for any collector or Disney fan: Finding Nemo and Up.

Arguably two of the best Pixar films ever, each five-disc set includes its respective film in enough formats to watch them simultaneously throughout your home -- Blu-ray 3D, Blu-ray, DVD and a Digital Copy. An added Blu-ray bonus disc with even more features highlights each set, for a fully immersible (no pun intended) viewing experience that offers literally hours of entertainment.

John Lasseter, Walt Disney and Pixar Animation Studios' chief creative officer and the executive producer of Finding Nemo, said that the film was "originally shot in 3D" and can finally be seen the way it was intended.

"At last, with today's technological advances, this spectacular underwater world can be seen as it was intended—showcasing its eye-popping detail and breathtaking colors to both theatrical and in-home audiences and creating a truly immersive experience," he said via a press release for the film's 3D re-release in theaters this past September.

Miss that? Then you'll want to get your hands on a copy of Finding Nemo on 3D Blu-ray. For those who haven't yet moved on to 3D, for whatever reasons, Finding Nemo is also making its debut in High Definition Blu-ray after previously only being available on DVD.

Finding Nemo (rightfully) won the Academy Award for "Best Animated Feature Film" in 2003.

Synopsis: In the depths of the Great Barrier Reef, Marlin (voiced wonderfully by Albert Brooks), an overly protective clownfish, embarks on a daring rescue mission when his beloved son, Nemo, gets scooped up by a diver. With his unforgettable friend Dory (Ellen DeGeneres) by his side, Marlin encounters an ocean full of memorable comedic characters on his momentous journey to find Nemo.
Also out is a more recent Pixar classic, Up. The tale of Carl Fredricksen (Ed Asner), an old man who won't sell the home that he and his late wife Ellie made until a slight mishap forces him to vacate. But Carl uses his past expertise as a balloon salesman to lift his entire life up and away onto an adventure to South America -- an adventure that he and his late wife Ellie had always dreamt of having. With some unexpected help from a Wilderness Scout named Russell and a talking dog, Carl learns there's more important things that holding on to old memories.

Up won the Academy Award for "Best Animated Feature Film" in 2009.
Synopsis: Walt Disney Pictures and Pixar Animation Studios take moviegoers up, up and away on one of the funniest adventures of all time with their latest comedy-fantasy. Up follows the uplifting tale of 78-year-old balloon salesman Carl Fredricksen, who finally fulfills his lifelong dream of a great adventure when he ties thousands of balloons to his house and flies away to the wilds of South America. But he discovers all too late that his biggest nightmare has stowed away on the trip: an overly optimistic 8-year-old Wilderness Explorer named Russell. Their journey to a lost world, where they encounter some strange, exotic and surprising characters, is filled with hilarity, emotion and wildly imaginative adventure.
Both five-disc sets retail for $49.99 but run around $28 on sites like Amazon.com -- and both are worth every penny to add to your collection, especially for Disney/Pixar fans and collectors alike.
Disc info & special features:
Finding Nemo:
Disc 1: Blu-ray 3D feature film and Seven high definition 3D virtual aquariums
Disc 2: Blu-ray feature film and bonuses, including CineExplore (aka director commentary), Finding Nemo - A Filmmakers' Roundtable, Reinventing the Submarine Voyage (transforming DisneyLand's classic ride into a Nemo-themed adventure), Alternate Opening, A Lesson in Flashbacks, Pixar original short "Knick Knack" (also on Pixar Short Films Collection 1), Aquarium (turn your HDTV into Nemo's world)
Disc 3: More Aquariums (Six HD virtual undersea locales from Finding Nemo), Concept Art Review, Making Nemo, Exploring the Reef, Studio Tour, Old School, Voice-over outtakes, Seven deleted scenes, Publicity pieces such as trailers, and Mr. Ray's encyclopedia. Unfortunately most of Disc Two's bonus features are in Standard Definition and have been transferred over from the bonus DVD that came with the original DVD release of Finding Nemo.
Disc 4: DVD version of the film with filmmakers' discussion and the theatrical short "Knick Knack"
Disc 5: Digital copy for iTunes or Windows Media Player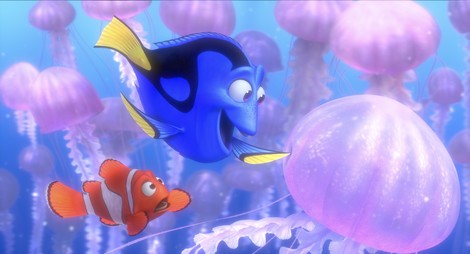 Up:
Disc 1: Blu-ray 3D feature film
Disc 2: Blu-ray feature film and bonuses, including CineExplore (an enhanced director commentary), "Dug's Special Mission" short, "Partly Cloudy" -- the theatrical short film that ran before screenings of Up in theaters, alternate and deleted scenes and more.
Disc 3: Blu-ray bonus disc which has even more special features including a "Global Guardian Badge Game" -- an interactive BD-Live geography game; Documentary features including: "Geriatric Hero" (character study of Carl Fredricksen), "Canine Companions" - showing the design, behavior and language of the dogs in the film, "Russell: Wilderness Explorer" (character study of Russell), "Our Giant Flightless Friend, Kevin" (an exploration of the creation of the colorful 13-foot tall bird), "Homemakers of Pixar" - the importance of Carl and Ellie's house, "Balloons and Flight", "Composing for Characters" with Up music Composer Michael Giacchino, "Married Life" (the concept that became Carl and Ellie's love story)
Disc 4: DVD version of the film along with special features, including Director commentary, "Dug's Special Mission", "The Many Endings of Muntz", "Partly Cloudy" (the short film that preceded screenings of "Up", and the documentary feature "Adventurd is Out There".
Disc 5: Digital copy for iTunes or Windows Media Player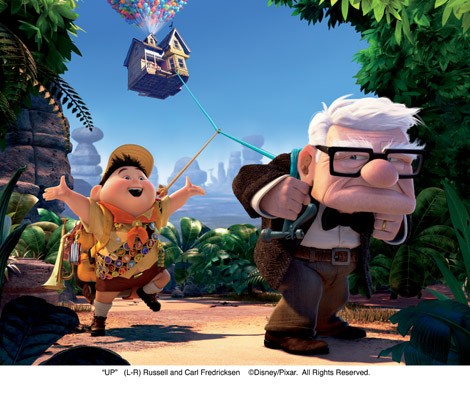 Check out these classic scenes from Up...

"Kevin"
"Russell"
"Dug"
"Alpha"