Must-Have Blu-ray Set: 'Indiana Jones: The Complete Adventures,' Available Sept. 18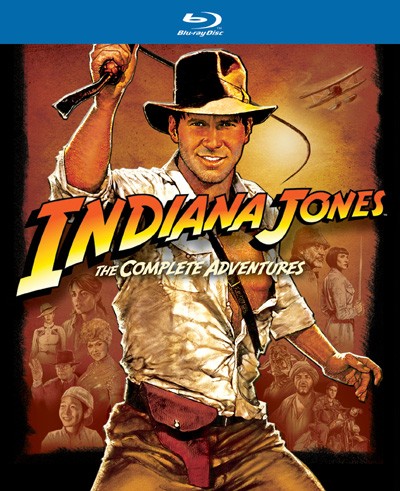 All four of the "Indiana Jones" films are now available in a special blu-ray set available from Paramount Home Media Distribution.
For the first time ever, watch the completely restored version of "Raiders of the Lost Ark" and remastered versions of "Indiana Jones and the Temple of Doom," "Indiana Jones and the Last Crusade" and "Indiana Jones and the Kingdom of the Crystal Skull."
In the first film, Indiana Jones (Harrison Ford) is summoned by Marcus Brody (Denholm Elliott) to find the long-lost Ark of the Covenant. The Nazis are already searching for the Ark, which the mystical-minded Hitler hopes to use to make his stormtroopers invincible. But to find the Ark, Indy must first secure a medallion kept under the protection of Indy's old friend Abner Ravenwood, whose daughter, Marion (Karen Allen), evidently has a "history" with Jones. Whatever their personal differences, Indy and Marion become partners in one action-packed adventure after another.
In "Temple of Doom," Indy gets down to the problem at hand: retrieving a precious gem and several kidnapped young boys on behalf of a remote East Indian village. His companions include a dimbulbed, easily frightened nightclub chanteuse (Kate Capshaw) and a feisty 12-year-old kid named Short Round (Quan Ke Huy). The thrills include a harrowing rollercoaster ride in an abandoned mineshaft and Indy's rescue of the heroine from a ritual sacrifice.
In "Last Crusade," an art collector (Julian Glover) approaches Indy with a proposition to find the much sought after Holy Grail. Jones' father, Dr. Henry Jones (Sean Connery) had recently disappeared during his efforts to find the cup. The junior and senior members of the Jones family find themselves in a series of tough situations in locales ranging from Venice to the most treacherous spots in the Middle East. Complicating the situation further is the presence of Elsa (Alison Doody), a beautiful and intelligent woman with one fatal flaw: she's an undercover Nazi agent. The search for the grail is a dangerous quest, and its discovery may prove fatal to those who seek it for personal gain.
Finally, in "Crystal Skull," Indy is called back into action when he becomes entangled in a Soviet plot to uncover the secret behind mysterious artifacts known as the Crystal Skulls.