Musiq Soulchild To Pen Relationship Book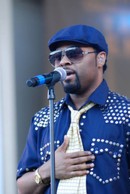 Soul singer Musiq Soulchild is writing a relationship book.

The Philadelphia-based singer/songwriter is hoping to release the untitled tome later this year, revealing it will be full of his thoughts about love and how the subject influences his music.

He tells Billboard.com, "Basically it's just a man with an opinion ranting about love and relationships and how my music is affected by them and how my music impacts other people's relationships."

"I know my core audience and people who are interested in my music will be interested in it, and hopefully people who never even heard of me and wouldn't even be interested in the music I make will at least be interested in my thoughts and opinions on how we as people relate to each other in terms of romantic love and relationships."

"I just really hope people will enjoy it."