Music's Biggest Stars Rocked The Red Carpet At The 2013 Grammys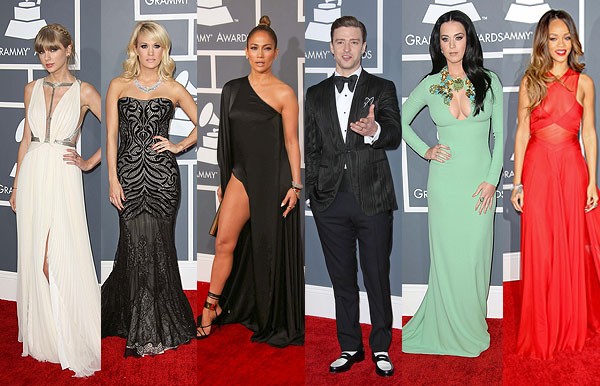 The 55th Annual Grammy Awards got off to a hot start on the red carpet, where music's biggest stars gathered before the main event at the Staples Center in Los Angeles.

Most stars adhered to the requests in the memo that CBS sent out on Wednesday, asking stars to tone their fashion choices down. The memo specifically asked that "buttocks and female breasts are adequately covered"; also warning that "see through" fashions, visible thongs and attire exposing any part of "genital regions" was forbidden at this year's award show.

Most stars followed the rules, including Jennifer Lopez, who did push the envelope a little and joked about the code while presenting an award with Pitbull.

J. Lo's black, one-shoulder gown exposed her entire right leg (coming dangerously close to the "genital region"), of which she joked, "As you can see, I got the memo."

Up-and-comer D'manti crossed the line though, wearing a see-through lace dress and exposing lots of skin.

The singer, there to promote her upcoming single, said she got a few glares from others over her attire.

"I got the memo after I picked out the dress," she said.

Apparently that made it okay to wear it.

Check out lots more pics from the 2013 Grammys below!