Musician Shvona Lavette Talks Exclusively With Starpulse About Her New Album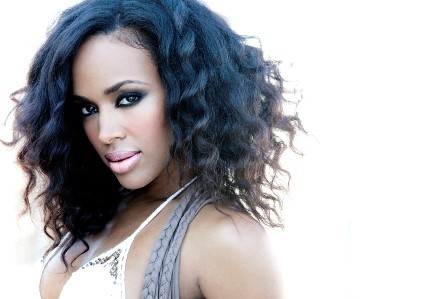 Musician, actress and model Shvona Lavette releases her debut album, 3 Percent and Rising on Tuesday, July 26th which includes her hit single, "Drop Dead."  Aside from her obvious musical talent, Shvona has appeared in NYPD Blue, Boston Public, Like Family, Eve, Miracle's Boys, Lincoln Heights, Brothers & Sisters, Brothers and Melissa and Joey. Shvona took some time out of her busy schedule to talk exclusively to Starpulse about her album and hot video for "Drop Dead" and shares her album with us before you can buy it.
Starpulse: Tell me about your album 3 Percent and Rising.  
Shvona: It comes out the 26th of July; I have been working on the album for about ten months now, which was a little bit longer than I expected.  I wrote every song on the album and it's good to finally get this out because it's long overdue. 
Starpulse: How have your fans responded to "Drop Dead"?
Shvona: People really like "Drop Dead" and when I was in New York over the holiday (where I'm from) it was played at a club that I was at and people really liked it because it has a club vibe. People really like the video too, a lot of guys really like the video with all the eye candy I put in there.   
Starpulse: Whose idea was it for the concept of the" Drop Dead" video?
Shvona: It was a collaborative idea between myself, the director Willie T. and my management team. 
Starpulse: Have you been doing a lot of press for the album?  
Shvona: Yeah I have been doing a lot of press and shooting some new things for the album and some viral videos for the remixes of some of the songs on the album. We have quite a few different mixes for the songs so we are shooting some videos in St. Tropez and Paris for my next single, "Last Call" which is on the 3 Percent and Rising.
Starpulse: You began your career as an actress; do you want to continue with that?
Shvona: Well, I was a musician first and I was doing more acoustic music because I play acoustic guitar. Then I came into this genre- the dance genre. I went to an acting conservatory for college and I was always involved in choirs and stuff like that and music was always the main role in my childhood. So, after the acting observatory, I started modeling in New York and then I came to Los Angeles and I was acting a lot and then I just got back into my music.  
Starpulse: Who are your musical inspirations?
Shvona:  For musical inspirations as a whole, I look up to quite a few. It's across the board -anyone from Patti Labelle to Fiona Apple, it's pretty broad. Right now I'm into Adele and then there's James Taylor because I was raised with him in my house as well as Luther Vandross. I have more old school influences.
Starpulse: How important is it for you to be a role model for young aspiring musicians? 
Shvona: I think that that being a role model is a tricky thing because I don't want to be anyone's role model. I think the most important thing, especially as a young woman is to be yourself. You know what your likes and dislikes are and I think that parents should be your role models. This whole wave of celebrities being idolized- you know it's cool and all but it can also be taken out of conduct. I'm just here to be a positive image for women with a positive lyrical content and to have fun in my videos. I'm not looking to be anyone's role model per say, I think everyone should find that within themselves.
Starpulse: If you weren't an artist, what would you want to do? 
Shvona: I would be a nutritionist.  I am on a cleanse right now actually and I was trying to be a nutritionist before I was an artist but I didn't think that it was going to work.
Starpulse: What music are you listening to now? 
Shvona: Adele is the newest person I'm listening to right now and I have a lot of older influences. I am going to a Sade concert next week with my girlfriends and I am excited about that but I still listen to the greats.
Starpulse: What was the last thing you 'Googled'? 
Shvona: To be honest was my SAG insurance and when it will run out. Because it is very important as an American to have insurance. I'm keeping it real- that was the last thing I 'Googled'! 
Starpulse: What was the last song you downloaded on iTunes? 
Shvona: Oh, the last song I downloaded. Let's see, I will look right now. Oh, I'm going to show how corny I am right now. The last song I downloaded because I like the writing style was John Mayer "3 x 5". I like that album and I love the writing in that song.
Starpulse: What are your summer plans?
Shvona: Well the Sade concert, I just got back from home (New York) and then I was in St. Tropez and Paris. I did a lot of BBQ's at my house and I have a wedding to go to- you know summer things. And my album comes out next week so that is exciting as well.
Starpulse: Do you keep in contact with your fans through Facebook and Twitter?
Shvona: Yes, my Twitter is http://twitter.com/ShvonaLavette and you can find me on Facebook https://www.facebook.com/ShvonaLavette, I also have my website www.shvonalavette.com, so you can find me there.
Starpulse: What's up next for you?
Shvona: My next single "Last Call" is on its way out; it will be out next week and as well as my album. And expect to see a viral video for "Last Call" club remix as well as the official video for "Last Call."
Click below to listen to Shvona: