Music Wrap-Up: Rappers Adore Miley Cyrus & Beyonce Shoots New Music Video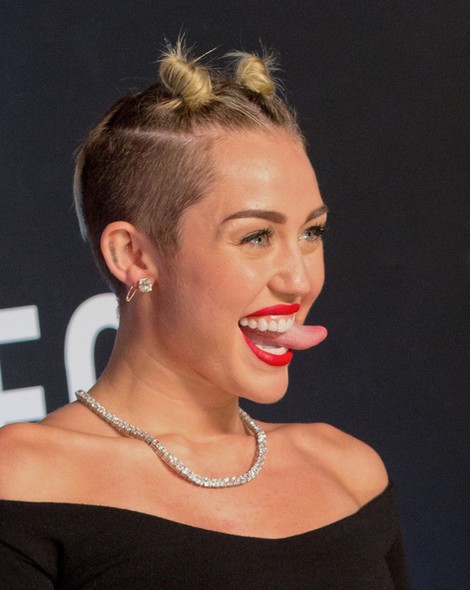 It's the end of the week and it's time to catch you up on news you may have missed while recovering from Sunday night's MTV VMAS. You can always count on MTV to be consistent with that good old thing known as shock value. Read on!

Rappers love Miley Cyrus

Since we're on the topic of the VMAS, how about that Miley Cyrus performance? You know what, you're probably over talking about her foam-finger humping and her twerking twerkness so instead let's talk about how every rapper on the planet is clamoring to get her on their songs. Let's start with Kanye West. According to the New York Post's Page Six, Kanye and Miley skipped attending VMA after parties last Sunday to head into the studio to record a top secret remix to Kanye's "Black Skinhead."
The original track which appears on Kanye's latest Yeezus is quite controversial with lyrics that aren't for the lighthearted. The remixed track of "Black Skinhead" featuring Miley is slated to appear on Kanye's remix EP due out later this year. Kanye's not alone for snatching up madam twerk-a-lot. She actually is featured on a track that also features Juicy J (Three 6 Mafia) and Wiz Khalifa called "23." And yes, Miley is rapping on this one.
The producer of the track posted an Instagram video earlier this week of Miley on set shooting the video for "23." No word on when we can expect the video. Last but not least, rapper Big Sean has confirmed that he will be working on a track that will appear on Miley's new Bangerz album due in stores in October. Hip Hop seems to love them some Miley Cyrus.

Eminem returns with a new single and album news

Speaking of rappers, Eminem released a new single amidst all the Miley tongue-lashings, literally and figuratively speaking. "Berzerk" is its name and it is set to appear on Eminem's new LP titled MMLP2 (The Marshal Mathers LP 2). You can expect the album to hit stores November 5. According to CNN, "Berzerk" was produced by Rick Rubin and the entire album was produced by Dr. Dre and Rubin as well. This album sounds epic. Check out "Berzerk" below!
Beyoncé films new video in Brooklyn

Beyoncé was spotted at Brooklyn's legendary Coney Island yesterday (August 29) filming a video as well as enjoying some of the amusement park's rides. According to RapUp, the singer was spotted riding Coney Island's Cyclone roller coaster with her hair stylist and when she made her way back to set to shoot the unnamed music video she covered up in a white robe. Two weeks ago, Beyoncé was photo'd with a fan who revealed that Beyoncé was shooting a video in her backyard on a beach in Miami. The fan mentioned that the video wouldn't be out for another 4 months. Spotted on set was Jay-Z. No word if this is another Beyoncé and Jay Z collaboration but we are allowed to dream. Rumor has it, Beyoncé is gearing up to release a new album in November.

Fin!

Thoughts? Are you loving the idea of Miley as a rapper? What do you think of Eminem's new single? Are you looking forward to a new Beyonce album?