Music Wrap-Up: Nicki Minaj Is Hip Hop's Highest Earning Lady, Kanye West vs. Jimmy Kimmel And More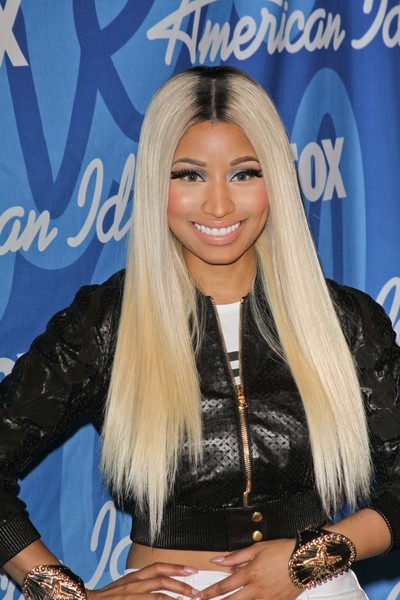 It's the end of the week and time to catch up on the news you may have missed while trying to keep count of all the celebrity feuding, hi Rihanna. Go ahead, read on!
Nicki Minaj is the highest paid woman in Hip Hop
In case you didn't know, Nicki Minaj is paid – very paid. Forbes released their 2013 Cash Kings list and making her way to the top is YMCMB artist Nicki Minaj who landed at number 4. The student is now teaching the teacher as she surpassed her mentor Lil Wayne (who came in at number 7 with $16 million), pulling in $29 million. How did Minaj do it? Aside from touring and her pretty endorsement deals with Pepsi, nail polish brand OPI, and makeup giant Mac – let's not forget that gig she had with "American Idol" that lined her pockets with $12 million to sit in as a judge for one year.
Minaj made her appearance as the first woman on the list (since the list's inception in 2007) two years ago and since then she has made positive strides up the money ladder. There aren't many other lady rappers for her to compete with but it's looking like the guys are going to have something to worry about in the next couple of years. Diddy sits at number one on Forbes' list with $50 million. Check out where your favorite Hip Hop artists rank below.
Big Sean reveals how he and Naya Rivera became an item
I don't know about the rest of you but I think that rapper Big Sean and actress/singer Naya Rivera are so adorable together! Not only are they easy on the eyes but they are also great on the ears as told by their collaboration on Naya's hair-flipping track "Sorry." Big Sean was recently on the Wendy Williams show to promote his recent release "Hall of Fame" and talked briefly about his girl Naya. According to Big Sean, he and Naya met via Twitter. The "Glee" actress spotted him in a fashion spread in GQ's November 2012 issue and was impressed with what she saw. So what was her move? At the recommendation of her girlfriends, she simply clicked that follow button under Big Sean's name and well… you know the rest. Big Sean spoke modestly of their union saying, "when someone takes away stress instead of adding to it, and somebody this cool, you've got to take advantage of it." Queue the awes. Check out a clip of Big Sean's interview below.
Kanye West is no Jimmy Kimmel fan, and Kimmel could care less
Earlier this week a video of an interview that rapper Kanye West did with BBC Radio's Zane Lowe hit the net and with it came a boat load of criticism. One of the quotes from the three part interview that people have been talking about is when Kanye declared that he was the biggest of them all when it came to rock stars. Most of the interview saw Kanye speaking oh so passionately about fashion, music, and classism among other things.
Though what Kanye had to say was very insightful, some of the things he said was considered too far out there making it difficult for everybody to absorb the information. Seeing the potential for a little comedy, Jimmy Kimmel poked fun at the interview with a spoof called "Kimmel Kid (re)Kreation." In the spoof, Kimmel used a transcript from the interview and used kids to reenact it. Kanye was not amused. The rapper took to his twitter to express himself in 140 characters and more with the caps lock on.
"Jimmy Kimmel is out of line to try and spoof in any way the first piece of honest media in years." Kanye ranted. "Jimmy Kimmel, I don't take it as a joke," Kanye continued, "you don't have scum bags hopping over fences trying to take pictures of your daughter." After throwing a few more insults Kimmel's way, Kanye said, "I like you, you know me, I went to your family's wedding."
Jimmy Kimmel later addressed Kanye's anger during his show last night letting the audience know that he had spoken with Kanye two hours before taping. Kimmel explained that Kanye was very upset and told Kimmel that he wanted a public apology. Instead of an apology, Kimmel made fun of Kanye some more but this time focusing on his rants and reading some of Kanye's tweets live. In the end there was no apology, Kim Kardashian's sex tape got dragged into it, and surely we can expect more Kanye tweets in the near future. Check out a video of the spoof that set Kanye off.
Miley Cyrus serves up some more sex in Mike WiLL-Made It's "23"
Remember a couple of weeks ago when I said that rappers officially adored Miley Cyrus and that she was set to appear in a couple of rap song's one of which included a song called "23" featuring Juicy J and Wiz Khalifa? Well the video was released and yes, Miley is sticking her tongue out and serving up some more provocativeness. The song is an ode to living legend Michael Jordan and his Chicago Bulls jersey number 23 along with his popular sneakers. Now, people have labeled Miley loose and have shaken their heads so much we're surprised it's still on their necks, but Miley is only doing what seems to be working. Whether we hate her new behavior or love it, we're still talking about it. Hey, at least she's consistent. Check out the video and let us know what you think.
Fin!
Chime in! What are your thoughts on this Kanye vs. Jimmy Kimmel fued? Do you think Nicki Minaj can top Forbes' list next year?