Music Wrap-Up: Drake & Bruno Mars Added To VMAs And More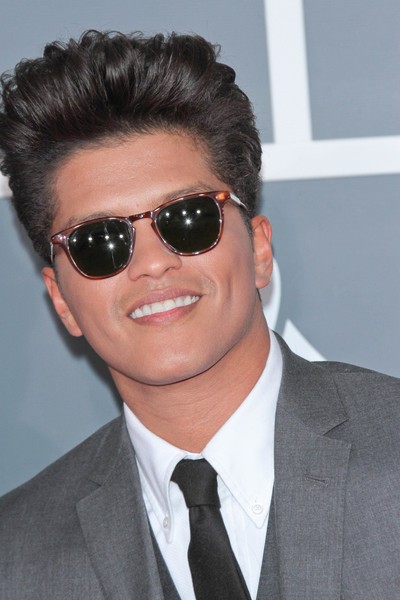 Welcome to Friday! At the request of a reader via Twitter who asked me politely for posts on Pop music news, I've decided not to treat the genre like an evil stepchild. Mainly because I love Pop so much. So, without further delay, here is the Hip Hop, R&B, AND Pop music news you may have missed while placing bets on Lady Gaga and Katy Perry's singles outshining each other.
Drake and Bruno Mars added to VMA performance lineup
The VMA's are set to kickoff live from New York this coming Sunday and the list of performers keeps growing causing anticipation to bubble like a pot of hot water on a stove. In addition to Justin Timberlake, Katy Perry, Lady Gaga, Kanye West, Robin Thicke, Macklemore & Ryan Lewis, and Miley Cyrus - Bruno Mars and Drake are set to take to the stage to surely wow the crowd. Drake is set to perform his smash hit "Started From The Bottom" for the first time live while Bruno is gearing up to perform a new single off his album Unorthodox Jukebox. The single that Bruno will be performing wasn't revealed but as a huge fan of Unorthodox Jukebox, this writer is hoping the single will either be "Gorilla," "Natalie," "Young Girls," or "Show Me." Of course, it couldn't hurt to perform "Treasure" again but any of those aforementioned singles would make this lady smile from ear to ear. The 2013 MTV Video Music Awards are set to air live from Brooklyn, NY this Sunday, August 25 at 9PM EST.
Brandy performs for 40 people in a 90,000-person capacity arena
"Put It Down" singer Brandy suffered one of the biggest ego crushers a celebrity could imagine. The singer who performed in Soweto, South Africa last weekend took to the stage of a 90,000-person arena to perform for just 40 people. Apparently, the performance was a surprise and was to be the last performance at the Nelson Mandela Sports and Cultural Day concert. Because it was a surprise, Brandy did not promote her impending appearance via her website or social media sites. According to the LA Times, after realizing that there were just 40 people in attendance, Brandy performed two songs before walking off. A South African musician tweeted that no one knew that there would be a concert after the game was over or even that Brandy was there. That surprise clearly didn't go very well. At any rate, I'm pretty sure the 40 that were there got a great show.
Toni Braxton makes light of her wardrobe malfunction
Don't you just love that term "wardrobe malfunction"? You can use it whenever you show your heavenly blessed parts and everyone will go "OH! Well, since you put it that way, I guess it's OK." Instead of hiding under a rock (and really why would she?) Toni Braxton made light of booty flashing her New Jersey audience at a performance last week. Toni revealed to Yahoo's OMG Insider that although she wanted to run off stage when the back of her sparkly getup came undone, she opted to continue to perform because the show had to go on. "I was uncomfortable." Toni admitted. "I can't deny I was uncomfortable, but I made it work and the audience kind of laughed and it turned into a burlesque show. I should have charged more for the tickets. Who knew?" Like most ladies, as I watched Ms. Braxton continue her performance wearing the nude bodysuit she had under her "wardrobe malfunction" paired with a blazer a male fan gave her (how sweet) I hoped that when I'm 45, my body look that great.
Should we expect an *NSYNC reunion at the VMA's or not?
This week has been full of fantabulous rumors regarding talk about *NSYNC possibly reuniting in Brooklyn, NY at the MTV VMA's. The New York Daily News's Page Six broke the news first stating that the former band members were planning to join Justin Timberlake on stage for a reunion performance after he receives his Michael Jackson Vanguard award. Well according to CNN, band member Lance Bass is causing some doubts after discussing the rumors on his SiriusXMradio show "Dirty Pop with Lance Bass." Lance blamed band members Joey Fatone, Chris Kirkpatrick, and his appearance (JC was busy) at Justin's last show in Florida for fueling the rumors. Bass says that although he expected the rumors, he's surprised to see that there is so much fan interest in the group getting back together. He's so humble. Of course your fans want to see you get back together, duh, that's what fans are for. I personally think that one performance with the group back together would suffice. So, will we see a reunion at the VMA's? We'll have to wait and see. According to Bass, it would be amazing if the fans can encourage them to make it happen.
Video Premieres
Lady Gaga "Applause"
Prepare to have your mind blown. Here is the music video for Lady Gaga's lead single "Applause" set to appear on her upcoming album Artpop due in stores November 11.
Fin!
Thoughts? We know you have an opinion and we'd love to hear it! What do you think of Lady Gaga's new video for "Applause"? Whose performance at the MTV VMAs are you looking forward to the most? Do you think a NYSNC reunion will happen? Should they get back together?